Check out the NEWS section for the May 2022 edition of Mustang Monthly!

Elementary students were treated to a MT Shakes performance this morning, followed by workshops in the afternoon (see photos). Thank you to Montana Shakespeare in the Schools for coming to our school today, and thank you to the Ennis Arts Association for helping to fund the costs associated with bringing in this fantastic group for our students!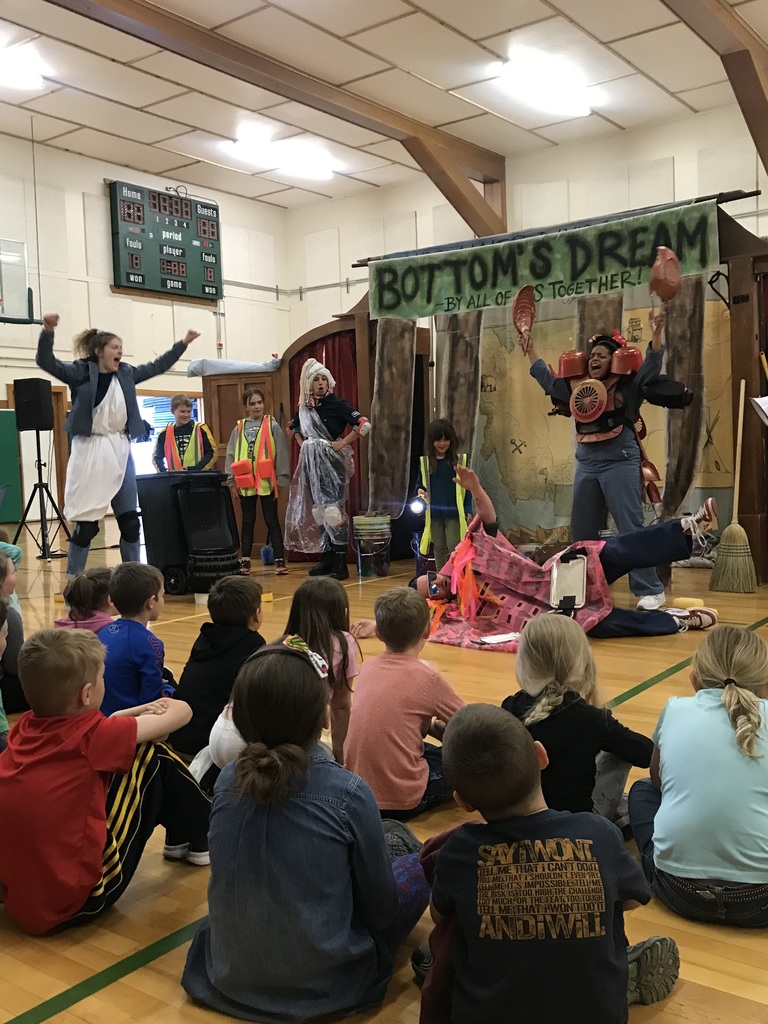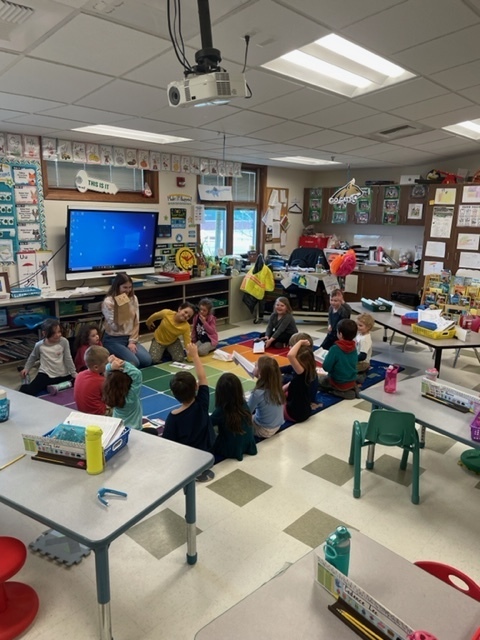 Greetings Ennis Shareholders! Please see updated classified and certified job postings under the "Employment" tab. Classified positions available are Administrative Assistant, Assistant Secretary, Custodial, and Route Drivers. Certified positions are K-12 Art, 7-12 PE/Health, and Business. Check out the postings and contact Casey Klasna @ 406-682-4258 with any questions.

Skills USA State Competition.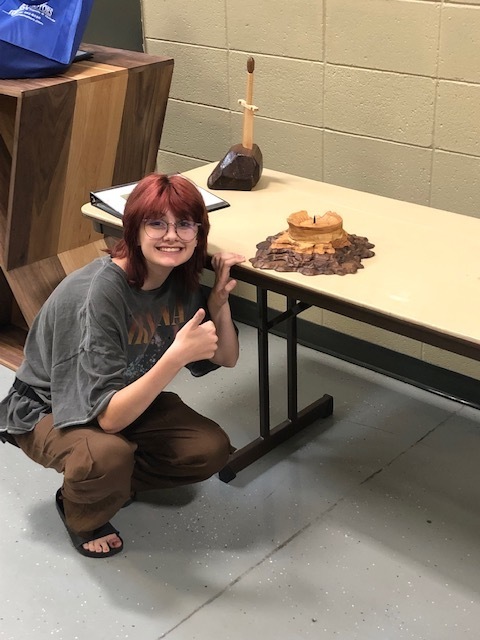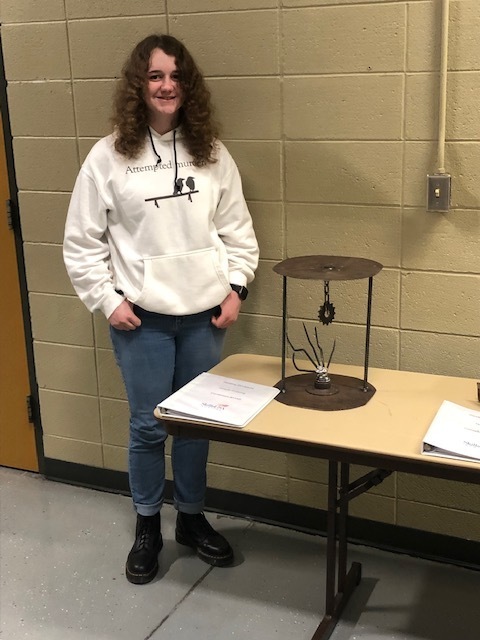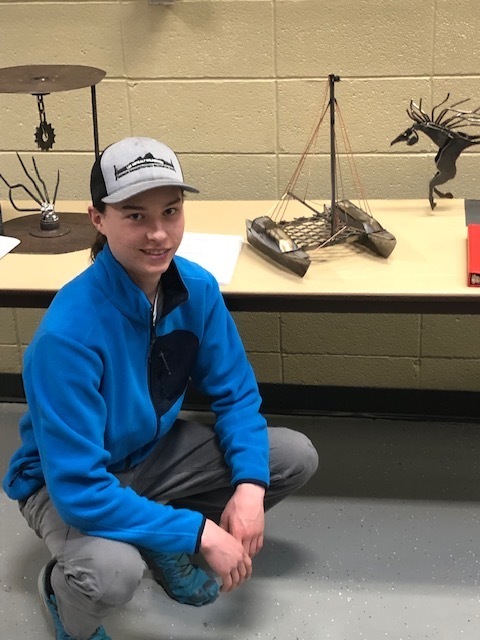 Production of the school play is underway! High school drama students are working hard for the production of the school play. Performances will be at 7pm on May 6 and 7. Please come out and support our talented actors and actresses.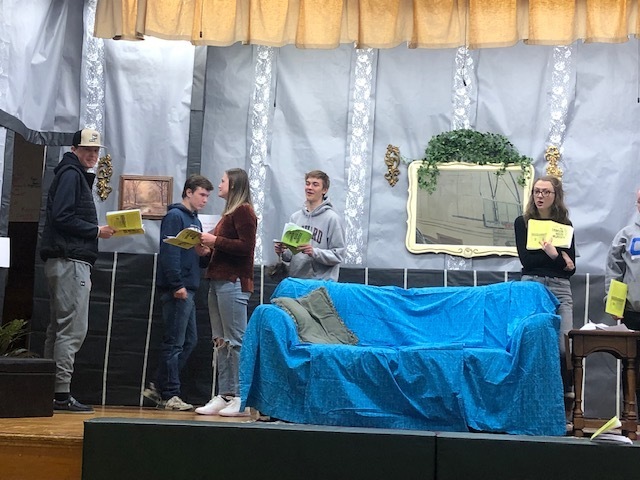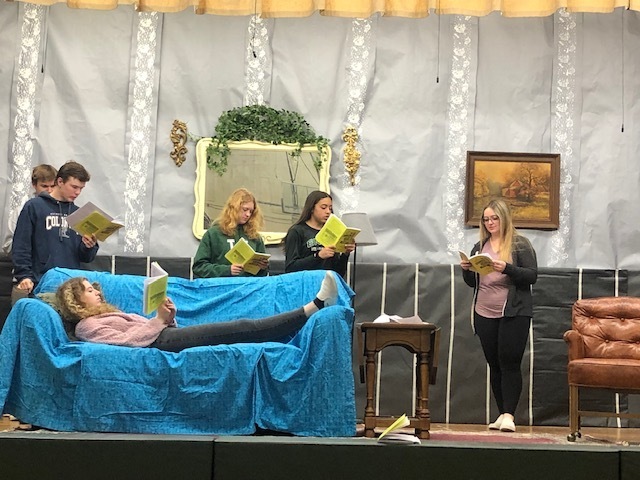 We had a paper airplane contest of Friday for recess rewards. Each grade level competed for a boy and girl winner and we also had a teacher "toss off" at the end. Movie passes were given to the student winners and our teacher winner received a gift certificate. Click on pic to see the winners for the event!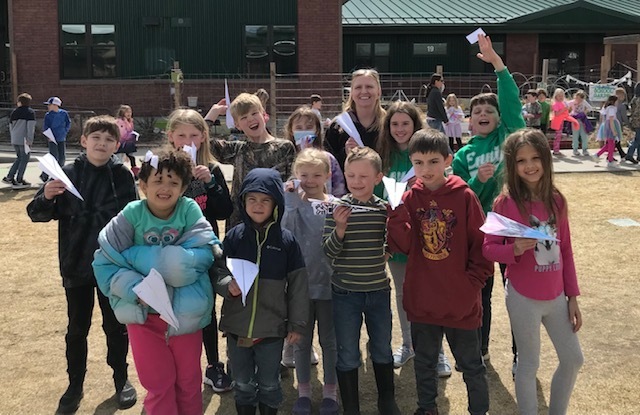 KINDERGARTEN ROUNDUP: Just a reminder that the Kindergarten Roundup is April 14th. If you have a child who will be five on or before Sept. 10th, 2022 and plan to send them to school next fall, please call D'awn ASAP at 682-4237 to sign up for the Roundup! Please help spread the word!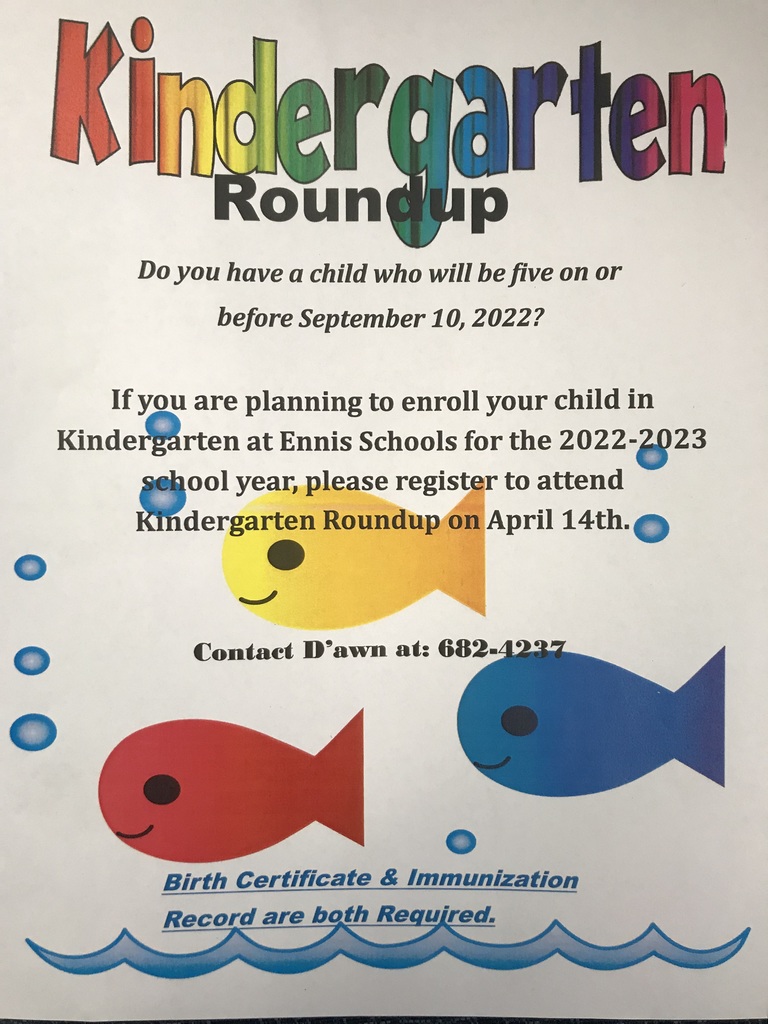 Thank you to Jeff Klein for loading up a calf and bringing it in to school today for students to check out!

Ennis School District #52 has two (2) Trustee positions available for a three-year (3) term. You may pick up the Declaration of Intent at the District office located at 223 South Charles Avenue. If interested in these positions, the deadline to file is Thursday, March 24th at 5pm. If you have any questions, please contact Clerk Ginger Martello or Superintendent Casey Klasna at 406-682-4258.

Kindergarten students in Mrs. Klein's class were very excited to see the first of five duck eggs in their class had hatched over night! Click on the link to see a pic of the new duckling and the excited kindergarteners!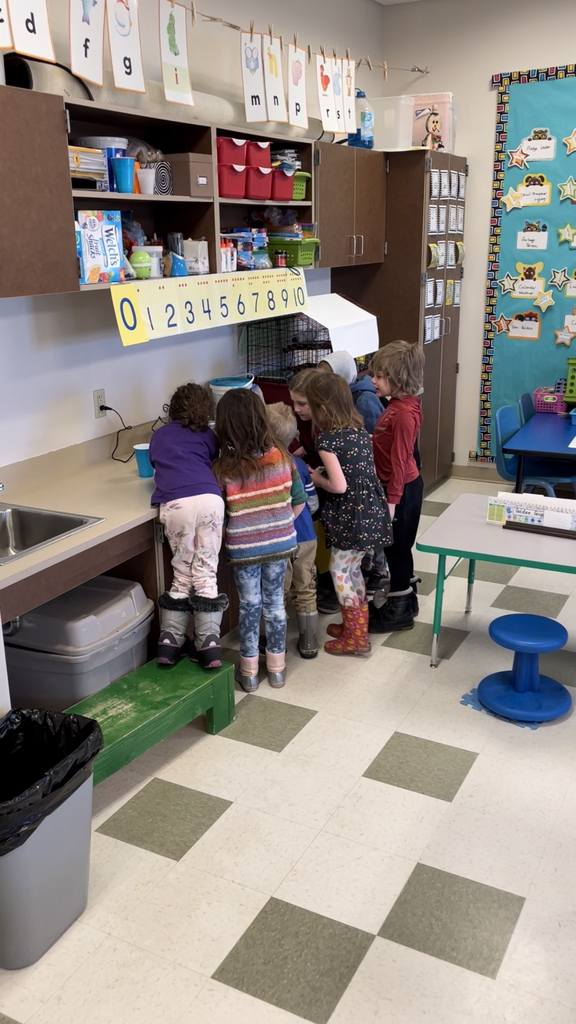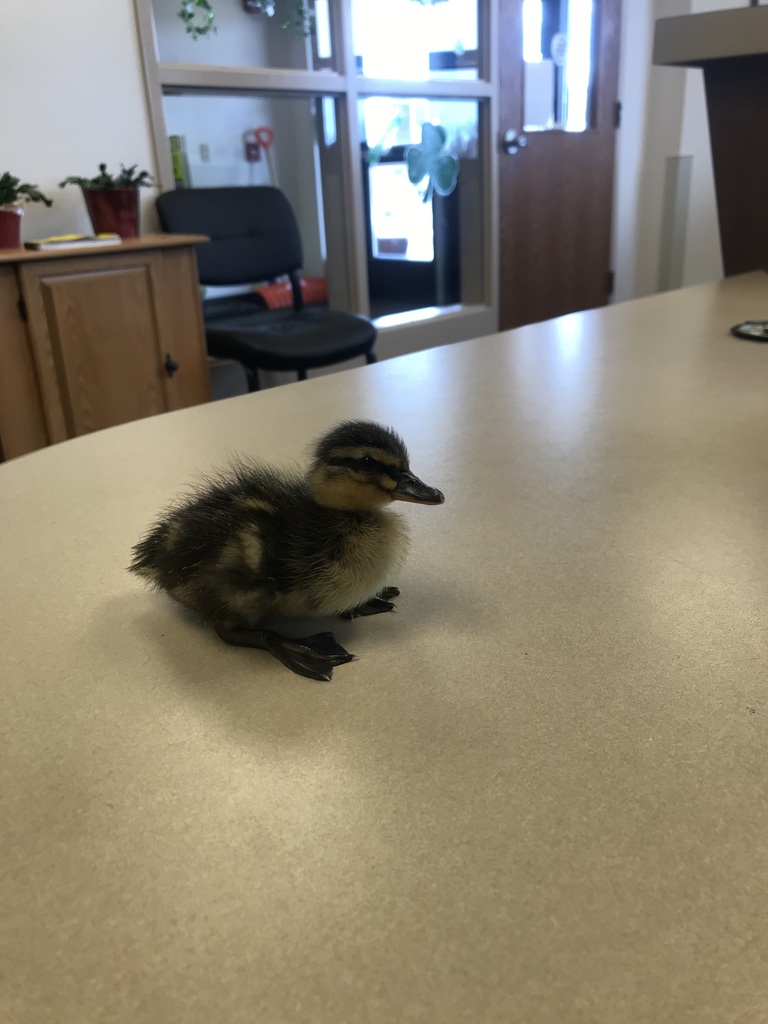 In the spirit of Basketball March Madness, Mrs. Schultz' 3rd grade class is doing a "Tournament of Books." Students had fun filling out a bracket to see which book will win. Everyday they will read two books from the bracket, students vote for their favorite and that book moves on in the bracket. It's been so fun and something that they all look forward to each day!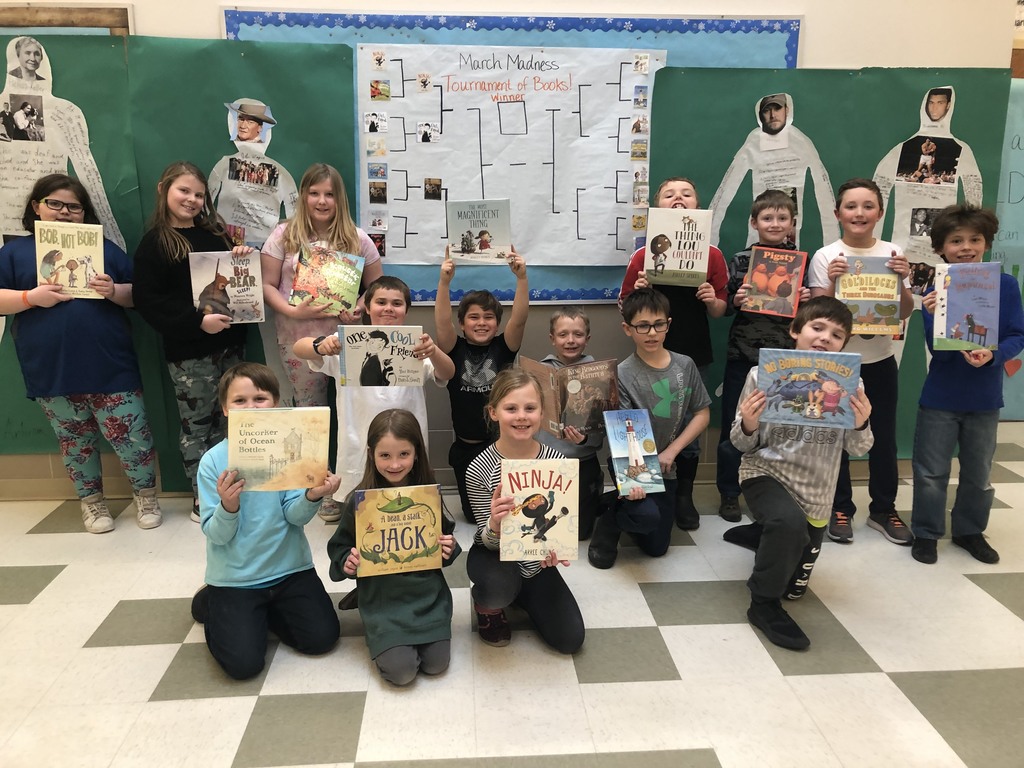 Kindy Roundup April 14th - Please help spread the word! If you are planning on enrolling your child next fall for the 2022-2023 school year, please register to attend the Kindergarten Roundup on April 14th. Call D'awn at 682-4237 to sign up!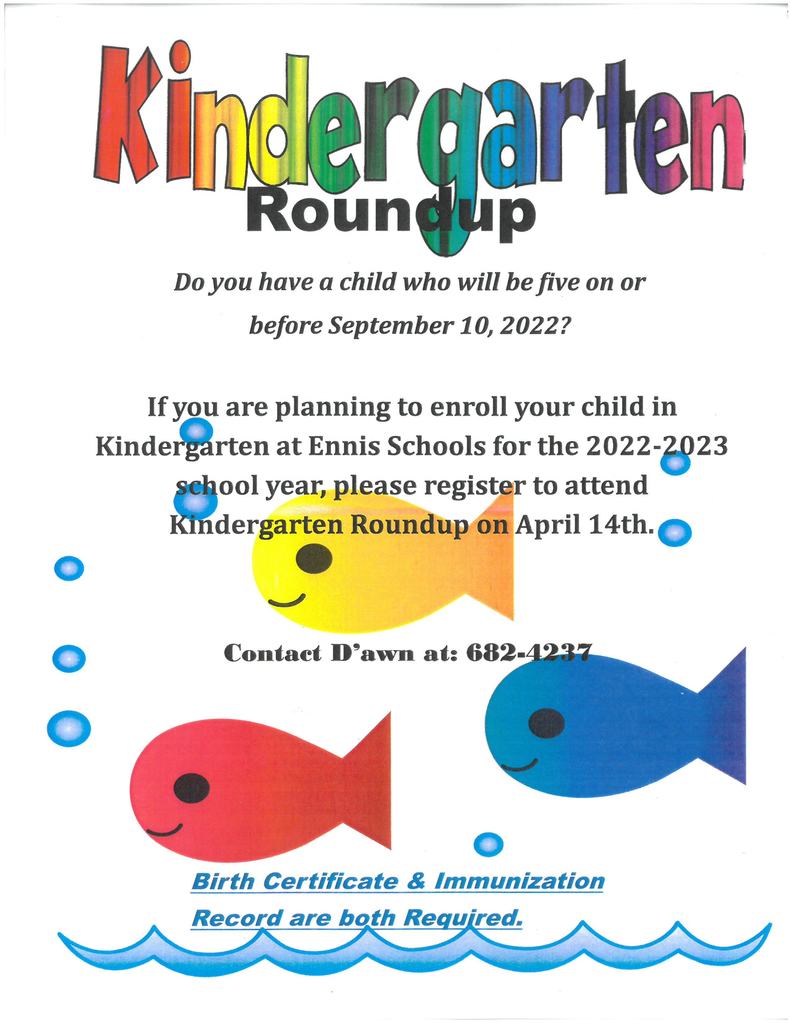 Prom is on Saturday, March 5 in the elementary gym. Doors will open at 7pm with the Grand March at 7:30pm. Doors will be shut at 8:30pm. The dance will end at 12am with After Prom beginning in the high school gym. Please call the high school office if you have any questions regarding Prom.

Missoula Children's Theatre Performance - Johnny Appleseed! We invite everyone to come enjoy a Missoula Children's Theatre performance tomorrow afternoon (2/26/22) in the Elementary Gym. There will be two performances to accomodate people's schedules. The first will be at 2 p.m. and the second performance will be at 4:30 p.m. (see attached advertisement). Thanks to the Booster Club for sponsoring and for all the individuals and businesses who helped support the program this year!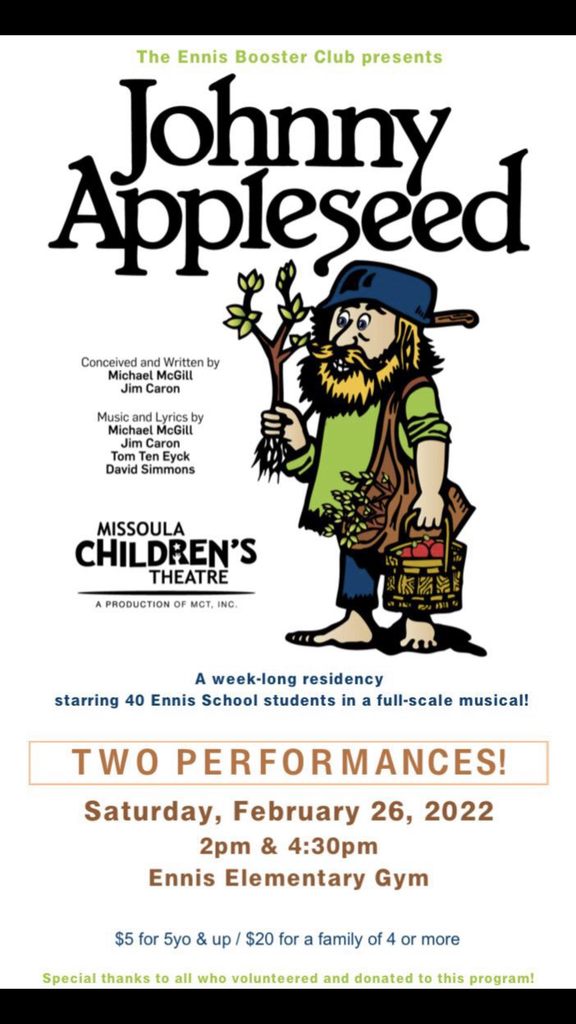 EXCELLENT BENEFITS!! We are currently looking to immediately add to our team a Custodian. $740/month for health insurance, $50k life insurance, personal days, holiday pay, sick/vacation leave accrual, and PERS retirement. Starting pay is $15/hr DOE. We are also seeking an office secretary for next school year. Please check out all jobs under the EMPLOYMENT tab!! Contact Supt. Casey Klasna for the details.

The Ennis Schools County Spelling Bee team headed over to Virginia City today to compete at the Madison County Spelling Bee. Congratulations to James Henrich and Jackie Treloar on their 2nd and 3rd place finish at the bee!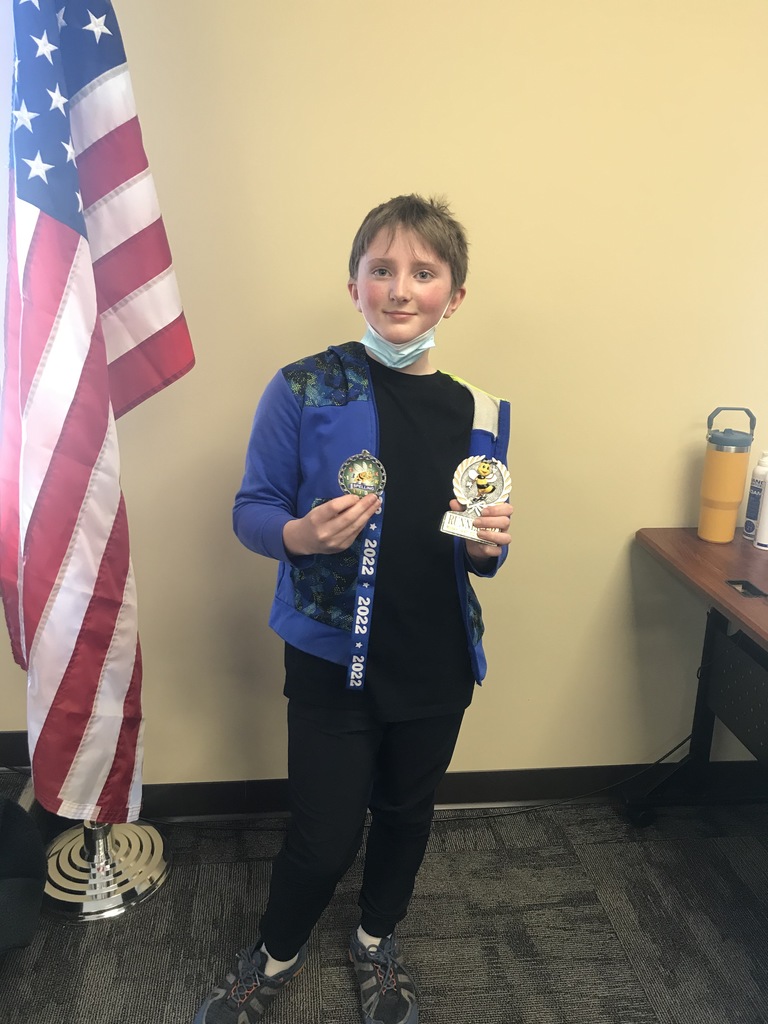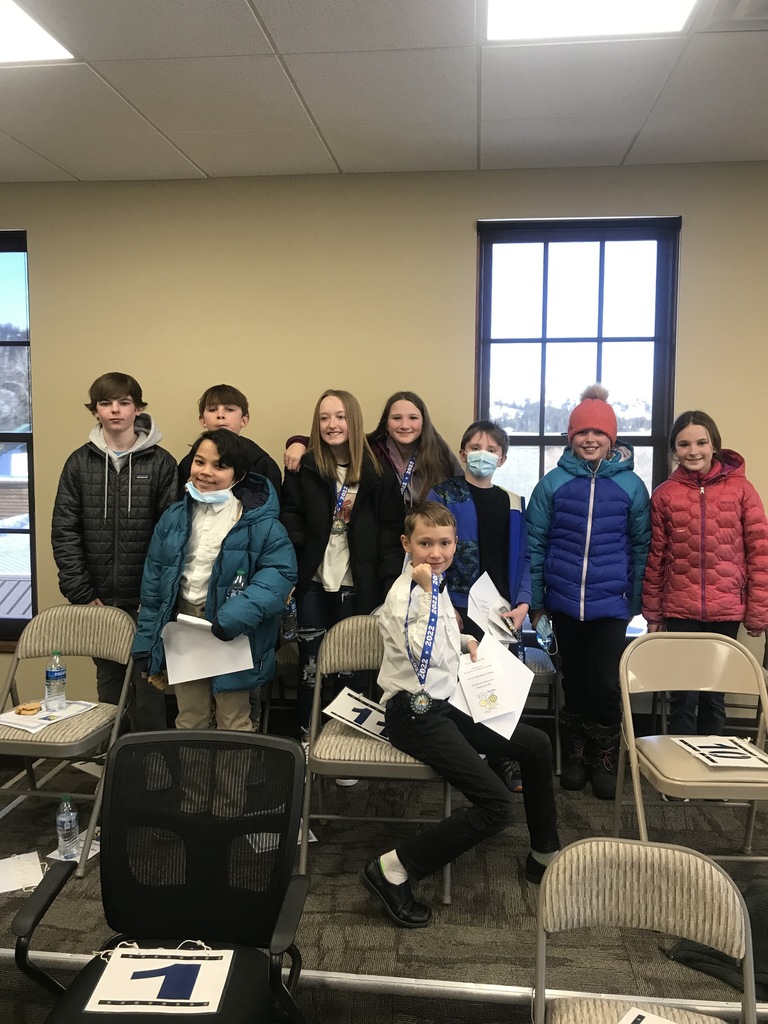 Just a reminder that there is no school on Friday, February 18th and Monday, February 21st. Have a great four day weekend and see everyone back at school on Tuesday, Feb. 22nd!

2021 Ennis Schools Spelling Bee Champion: Congatulations to 8th Grade Student Harper Leonard on winning the 4th-8th Grade Spelling Bee! Emmylou Edge (4th Grade) took 2nd place and Talon Haas (5th Grade) took 3rd Place. Harper, Emmylou, and Talon will represent Ennis at the County Spelling Bee on February 23rd at 10 a.m. in Virginia City. Other students representing Ennis at the County Spelling Bee include John Hostetler, Jackie Treloar, Peter Kelley, Caden Crisostomo, Gia Fanelli, Celee Klasna, and James Henrich(Alternate). Good luck at the County Spelling Bee!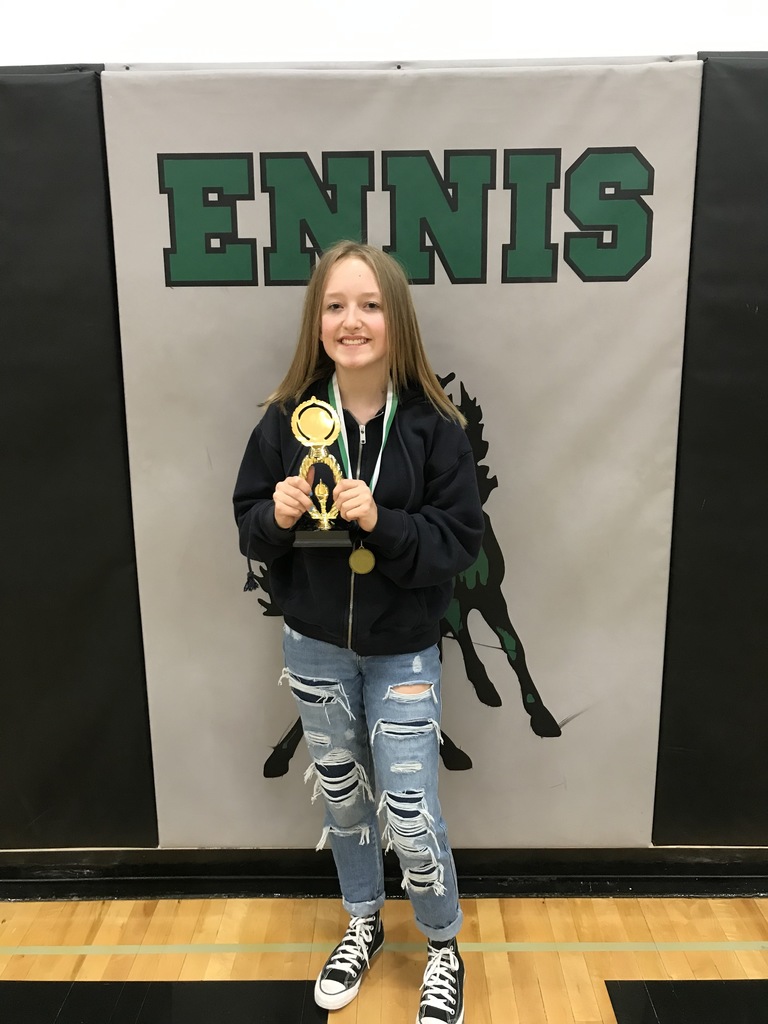 Students celebrated the 100th day of school today by dressing up like they were 100 years old - saw some great costumes today!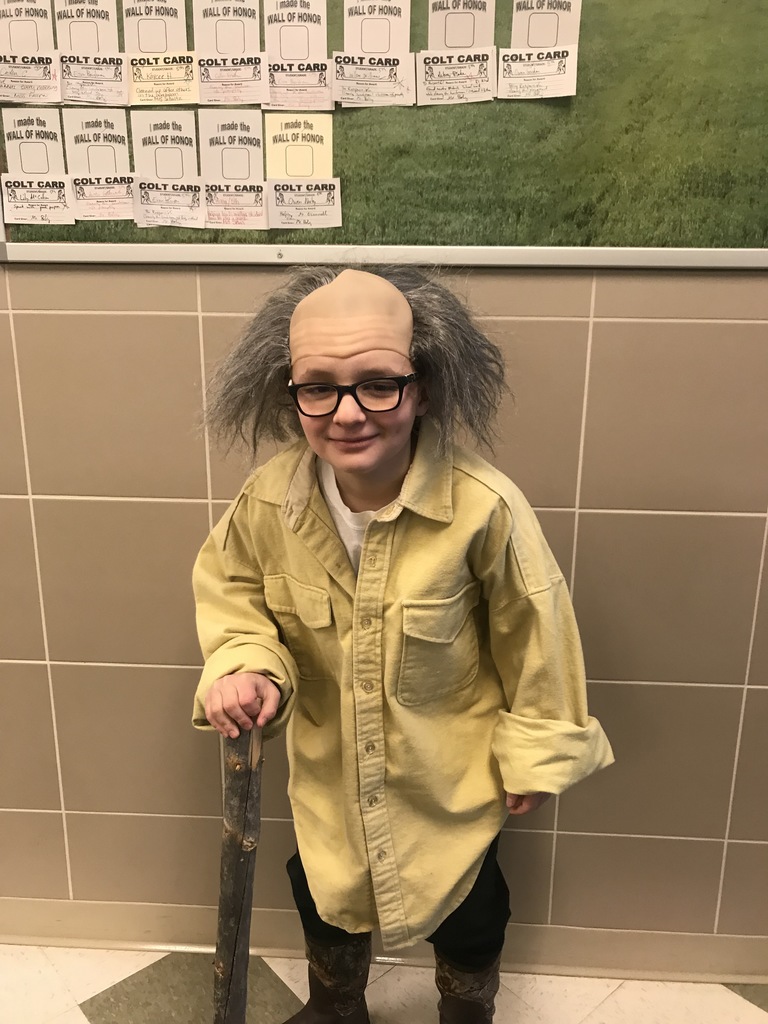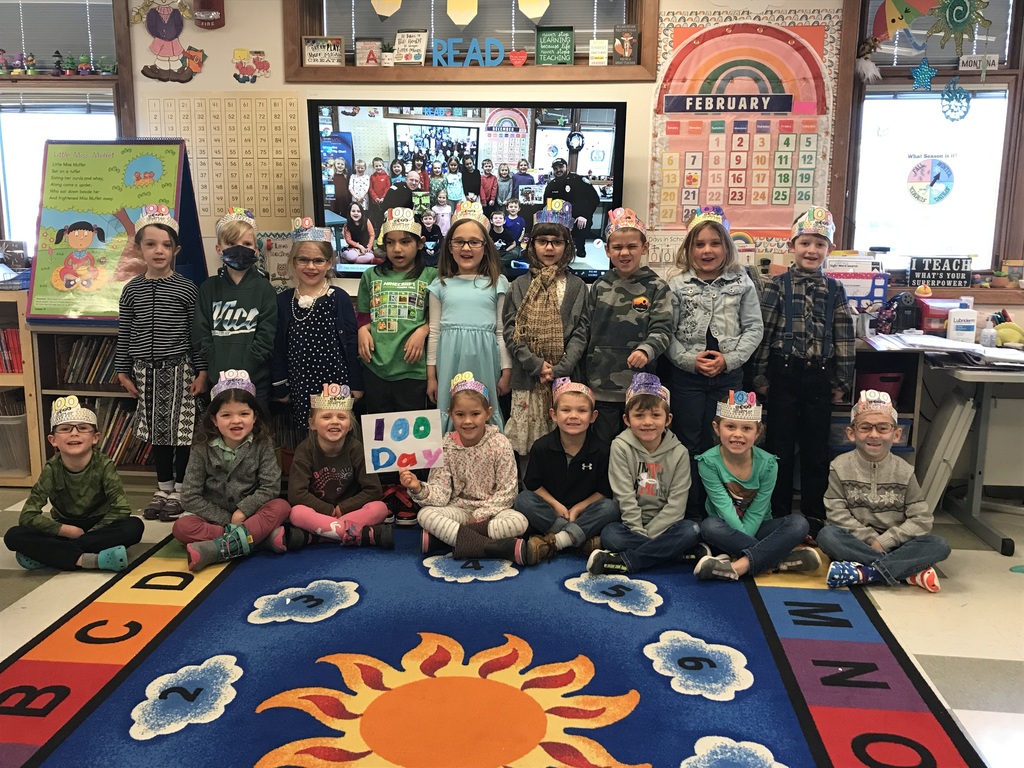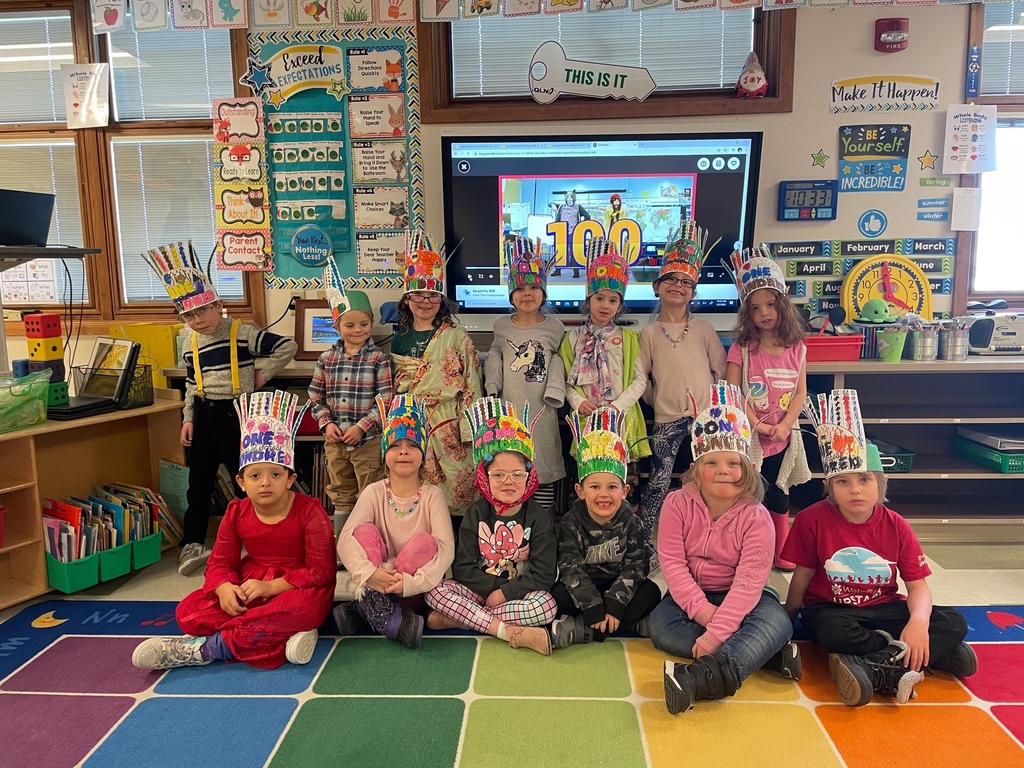 Another successful Science Fair is in the Books! On Monday, January 31 our K-8 students participated in the annual science fair. There were a lot of creative and interesting projects. Sophie Rogers, our high school science teacher, is the Science Fair coordinator. We had over 40 volunteers from the community here to judge, run the scoring table, help with organization, etc. The amazing community of Ennis gave out close to $3,000 in special prizes. Great job to all involved!