K-1 students were treated to a visit from a baby calf this morning! Thank you to Bill Wilson from the Jumping Horse Ranch for bringing in the little guy for show and tell!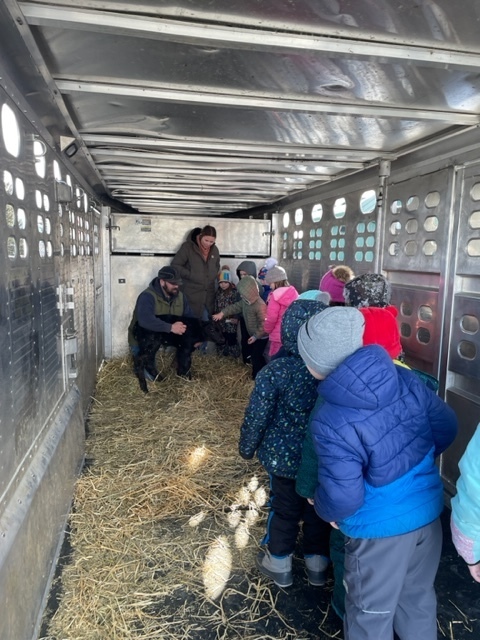 MT Shakes from Montana Shakespeare in the Parks performed yesterday morning for K-5 students. The performance was excellent as allways and they followed up the morning performance with workshops for 3rd-5th grade students in the afternoon. Thank you to the Ennis Arts Association for helping to offset the cost of bringing in MT Shakes!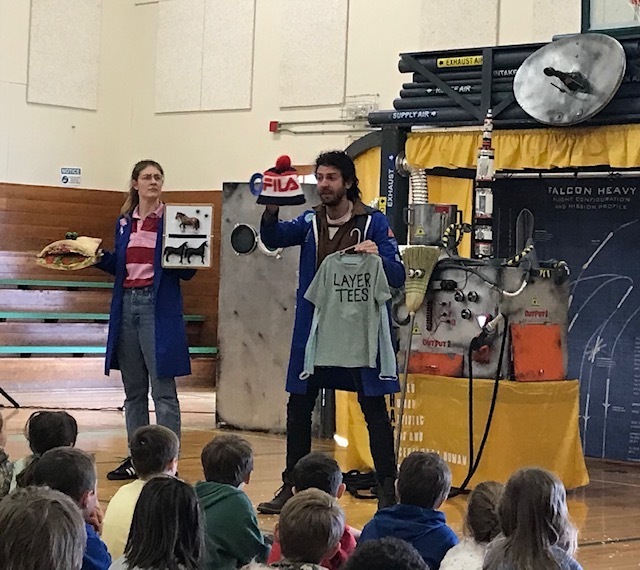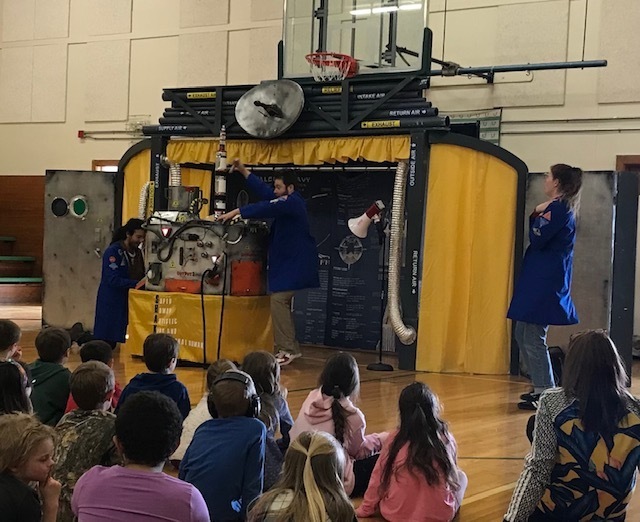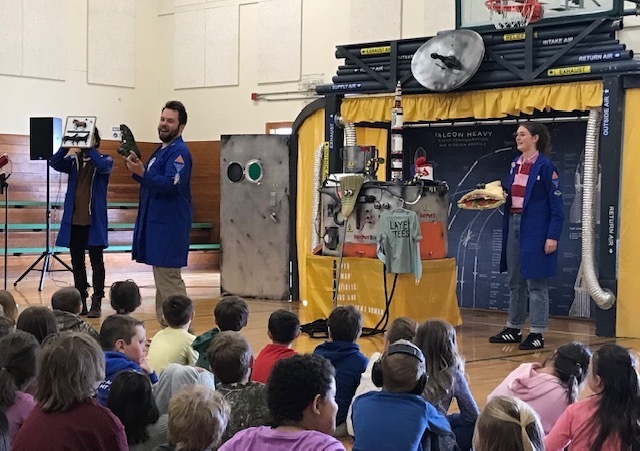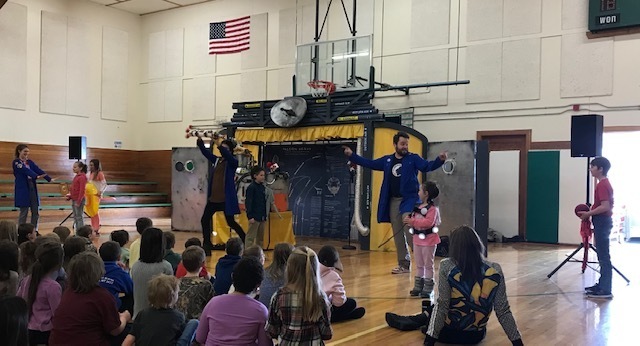 The April school board meeting will be on Tuesday, April 11th, NOT Wednesday, April 12th!

Elementary students are being treated to watershed lessons with the Rolling Rivers Trailer through the Ennis Schools Groww Program this week. Students get to experience hands-on learning about watersheds and how river systems work with erosion, the benefit of vegitation on erosion prevention, etc. See pictures!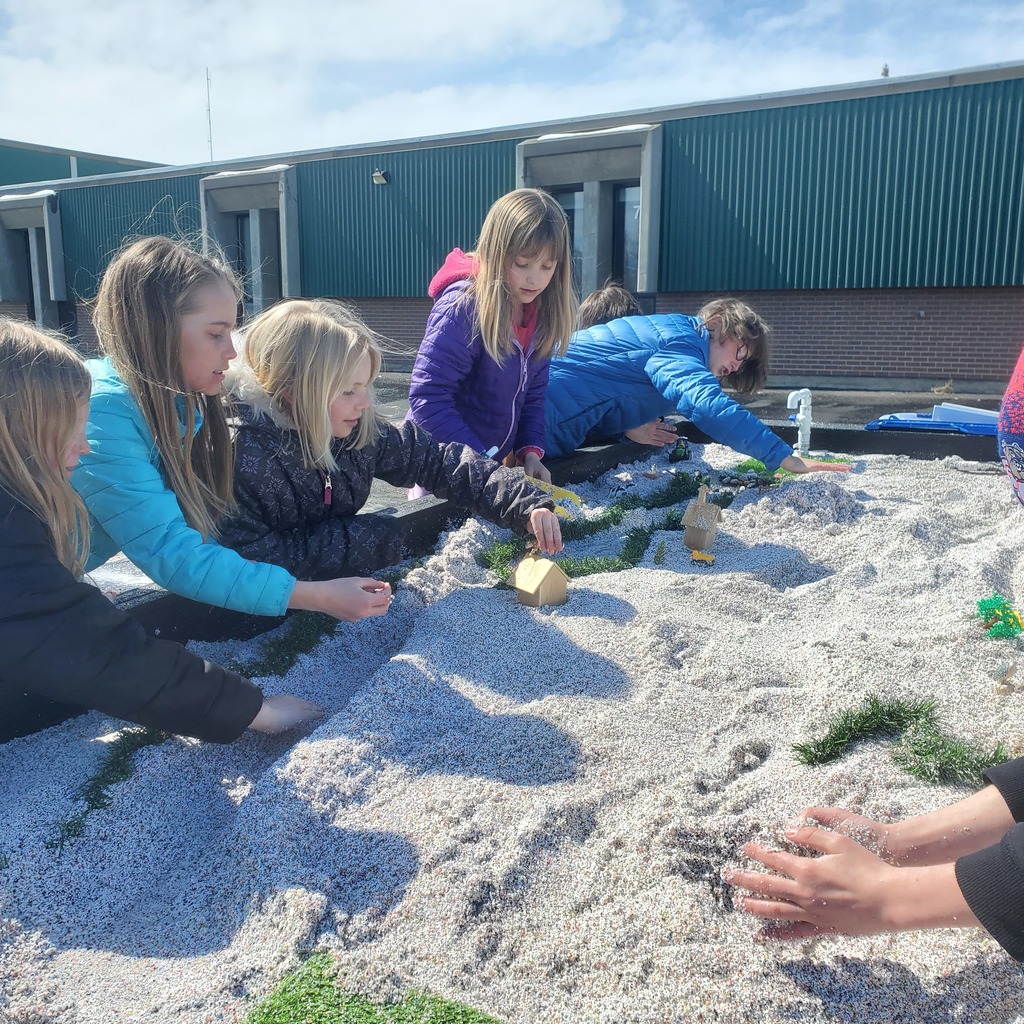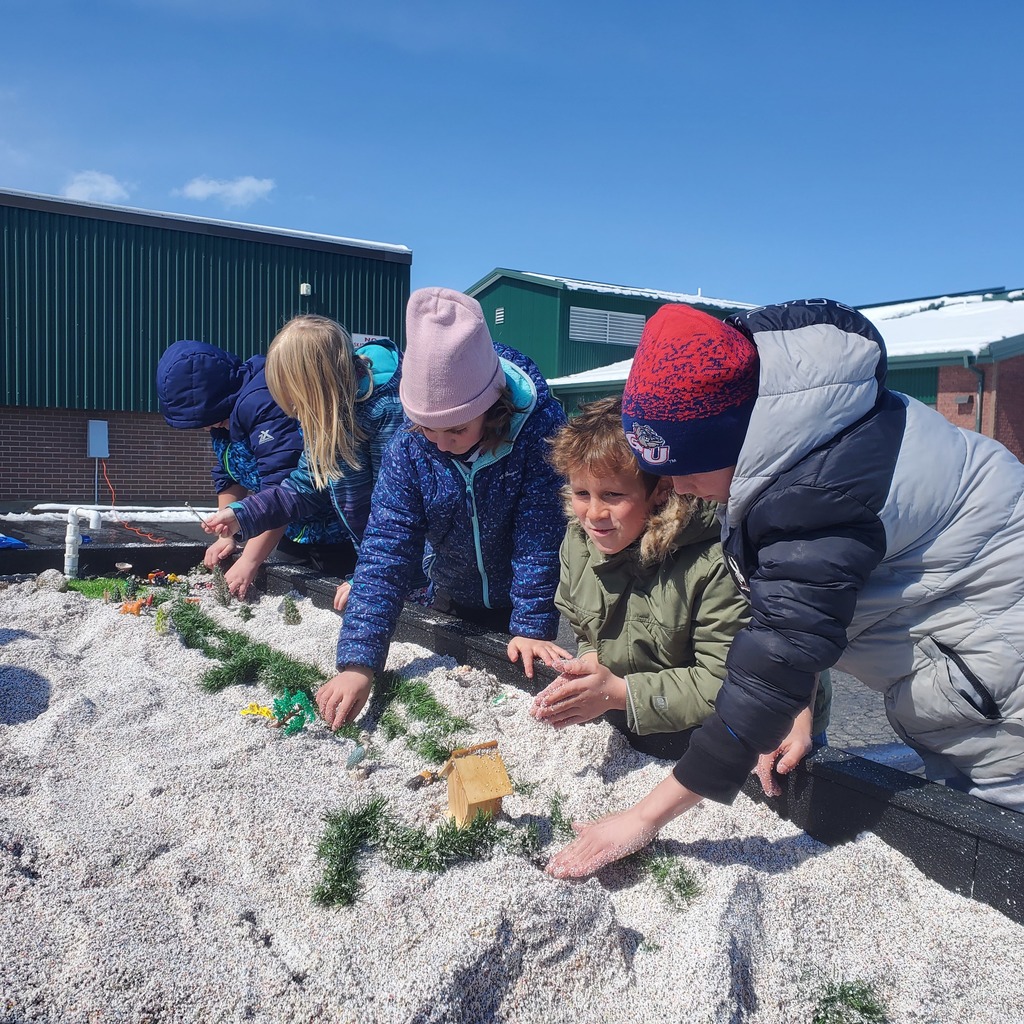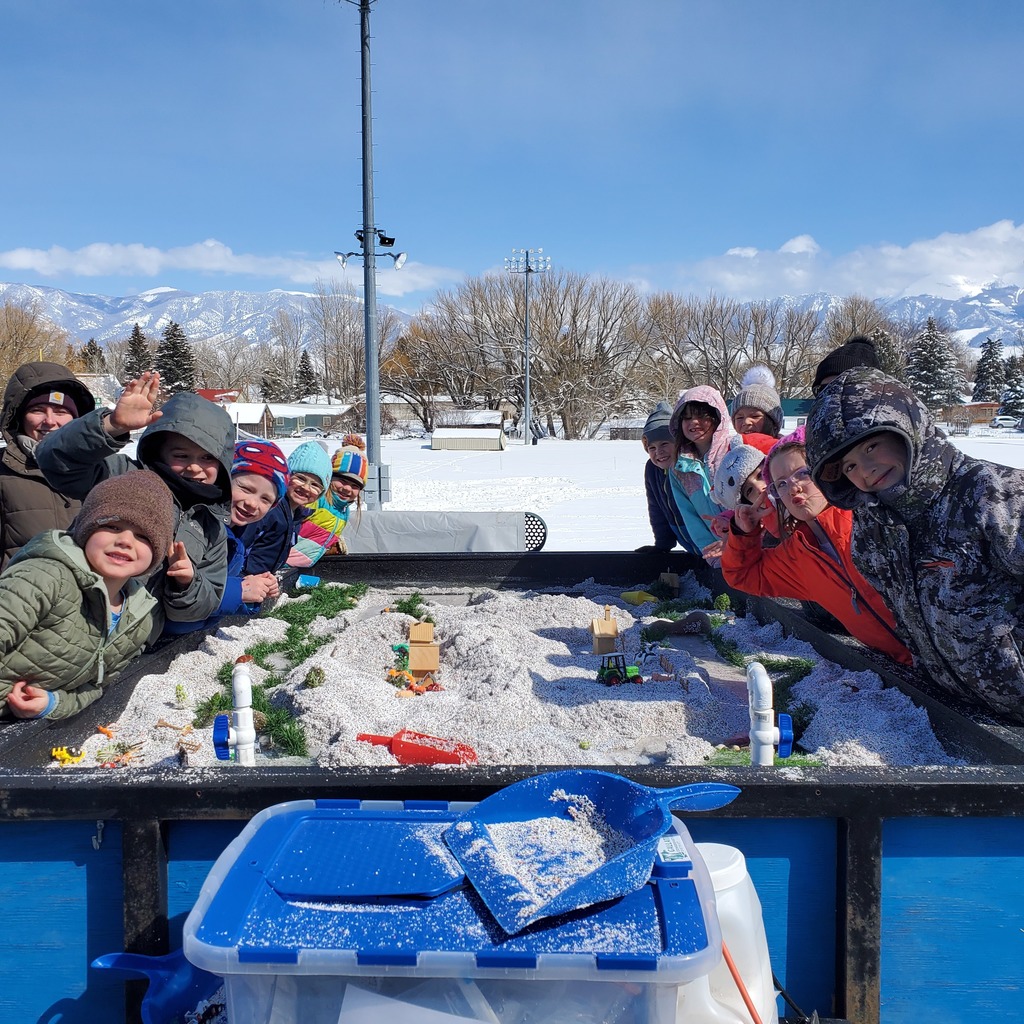 Kindness Story and lesson from our students - I just wanted to share a story about some 5th grade kids who were walking by one of our parents who had a flat tire in the parking lot after school the other day. When they noticed the parent's problem, they quickly came over to assist her. These acts of impromptu kindness are the things that make our school and community a great place to be. We can all learn from these acts of kindness from kids that quite frankly I see many times a day in our school. In a day and age where there seems to be so much of a spotlight put on negative energy, this is just another example of our children providing the example on how we all should strive to behave and interact with each other. Thank you, Keyser, Sawyer, and Savannah, for providing this example for both students and adults alike!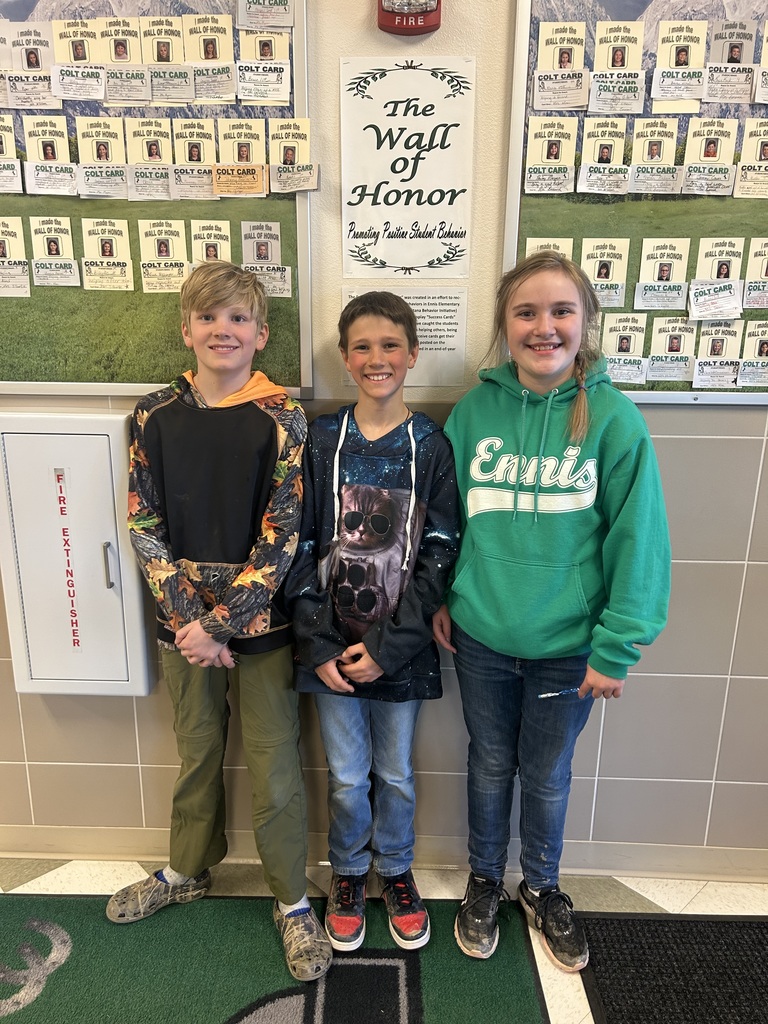 Kindergarten Roundup! Please help spread the word that the Ennis Schools Kindergarten Roundup is scheduled for April 4th. Please contact D'awn at 406-682-4237 or
dledgerwood@ennisschools.org
if you have a child who will be five on or before Sept. 10th, 2023 and are interested in enrolling them in elementary school for the 2023-2024 school year. Please click on the image for more information!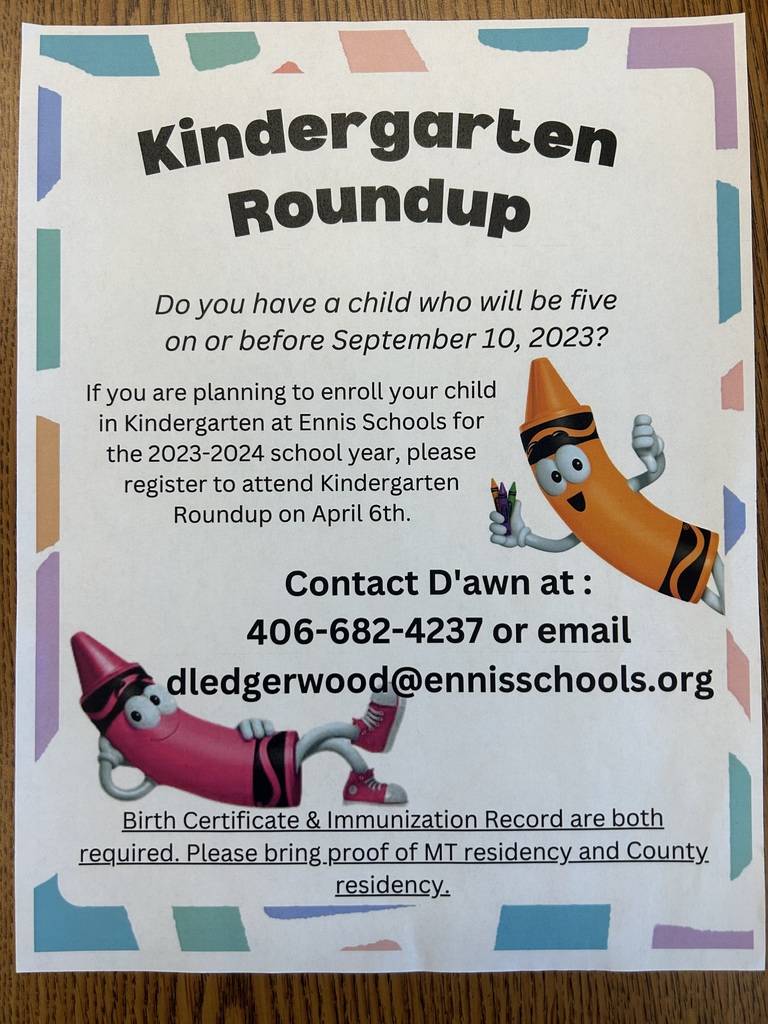 Lunch Lady News from Head Cook Tammy Wham: The week of March 12, I traveled to Washington DC representing the Montana School Nutrition Association board for the Legislative Action Conference put on by the School Nutrition Association. Dave Thomas, from Darby, and I met with the Montana members of Congress to discuss important issues for school nutrition (reimbursement rates, healthy school meals at no charge, reducing regulatory and administration burdens and the USDA proposed guidelines). If you have any questions on these issues do not hesitate to give me a call. We had a very productive conference. Thanks, Tammy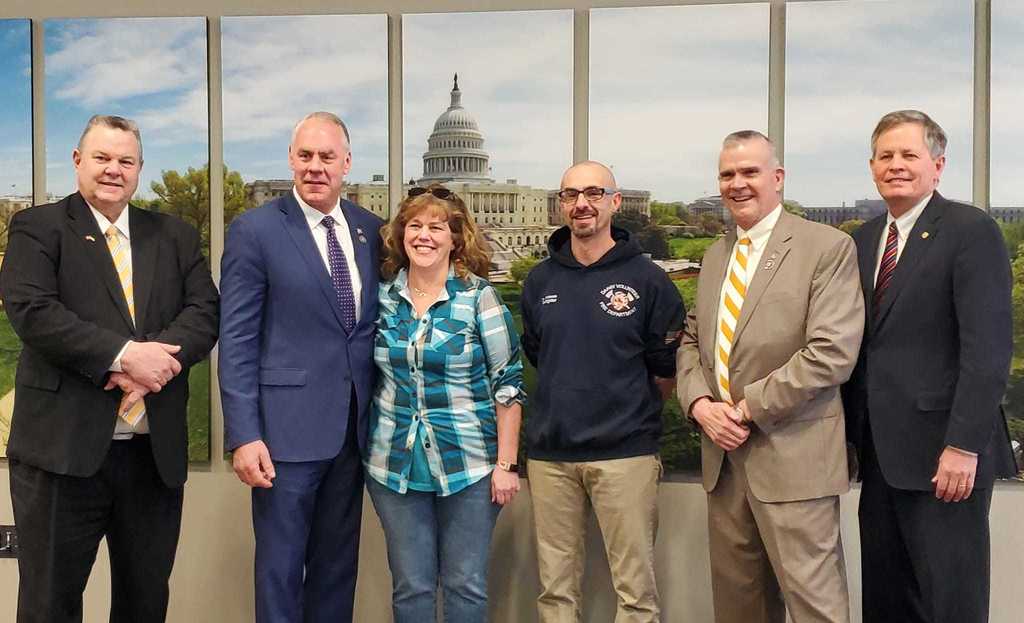 Ennis School District #52, Special Board Meeting When: Monday March 20th, 2023 Where: Ennis High School, Room #3 Time: 6pm Agenda posted in News, and on School Board Page (under Our District)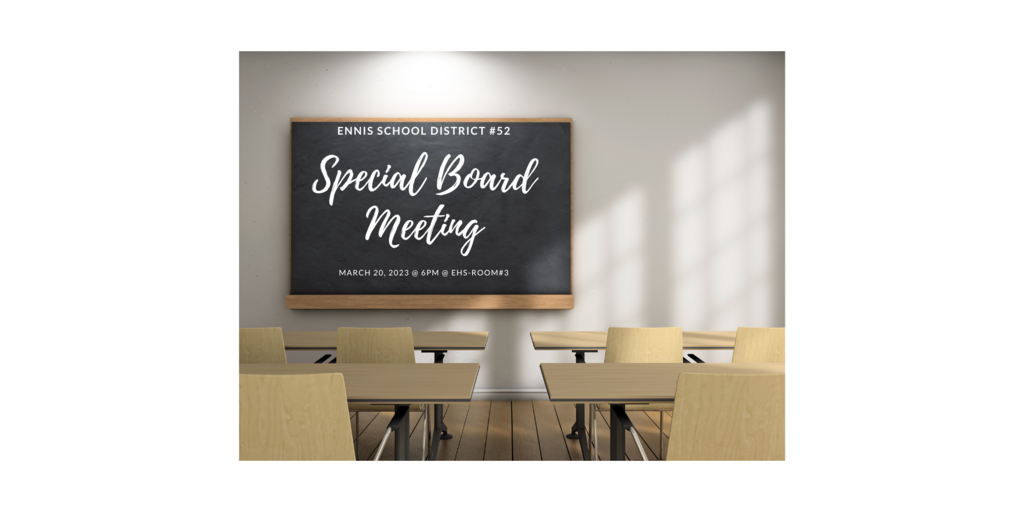 Congrats to our Little Mustangs!-They are on their way to State Competition! Good luck at state this weekend and Go Mustangs!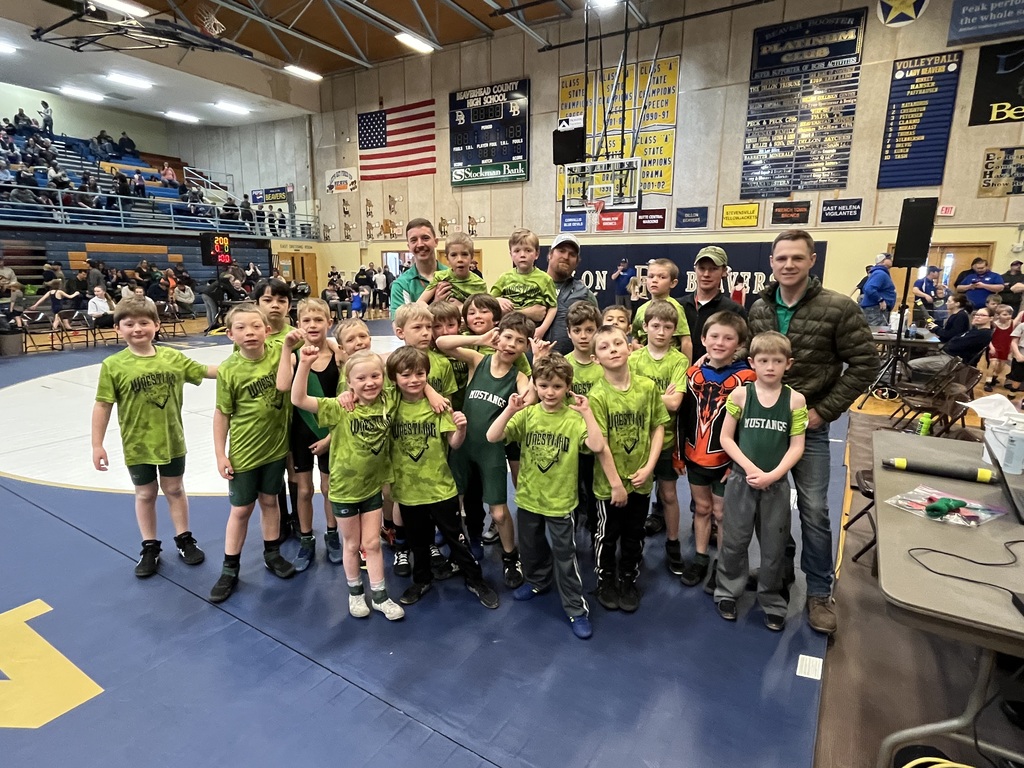 Read Across America Week wrapped up today with a movie party in the HS gym. Students were treated to a movie and snacks. Students enjoyed a week full of dress up days geared toward the theme for the week. Great job getting your read on, elementary students, and keep reading those books!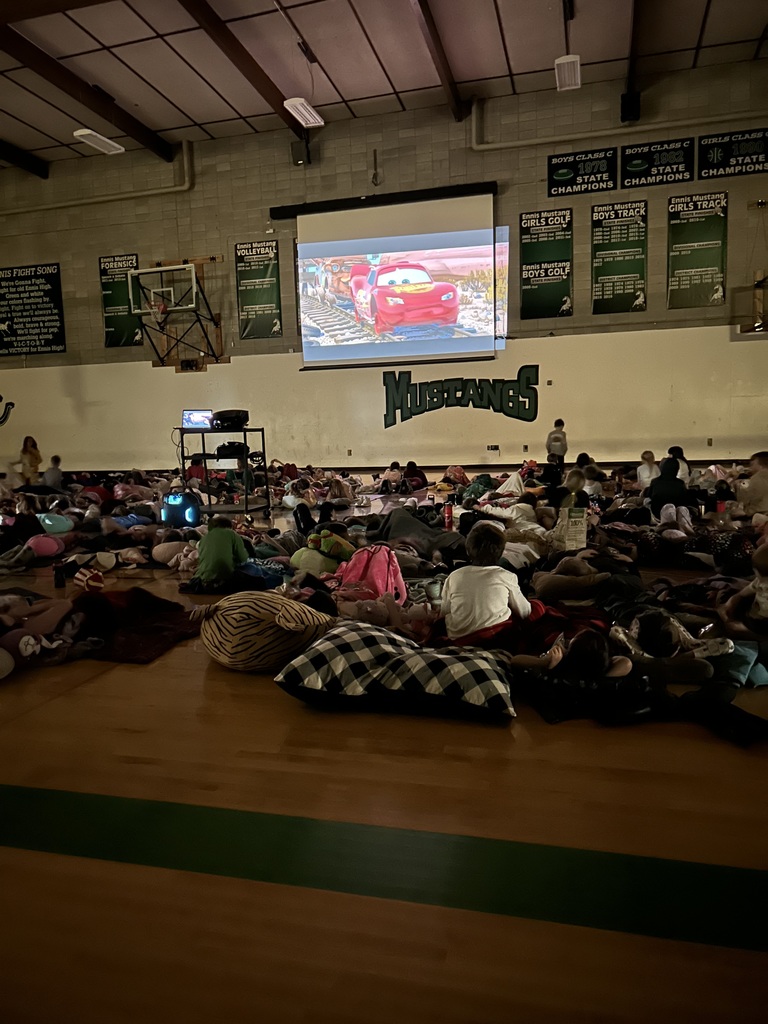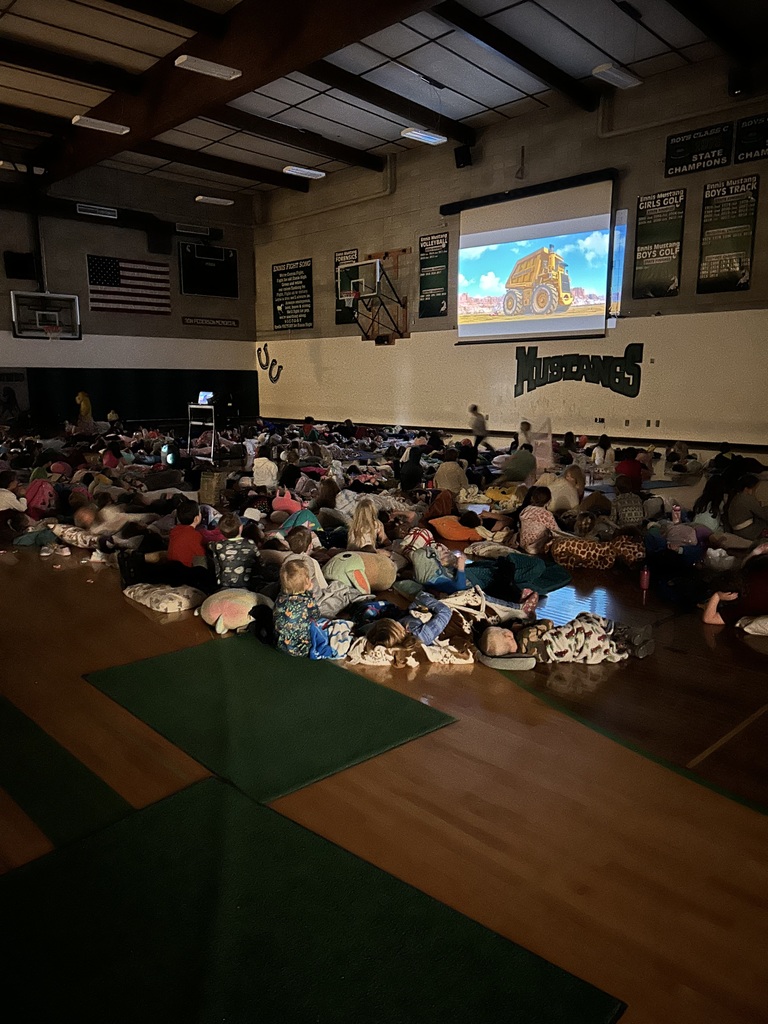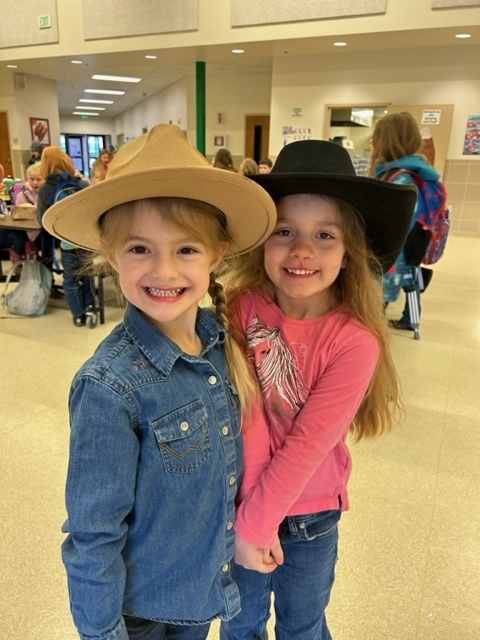 Ms. Myers' 1st Grade students were learning about greater than, less than, and equal to signs today in math class. They were using playdough to show they understood the concept. The images appear to indicate they really know their stuff! Great job, 1st graders!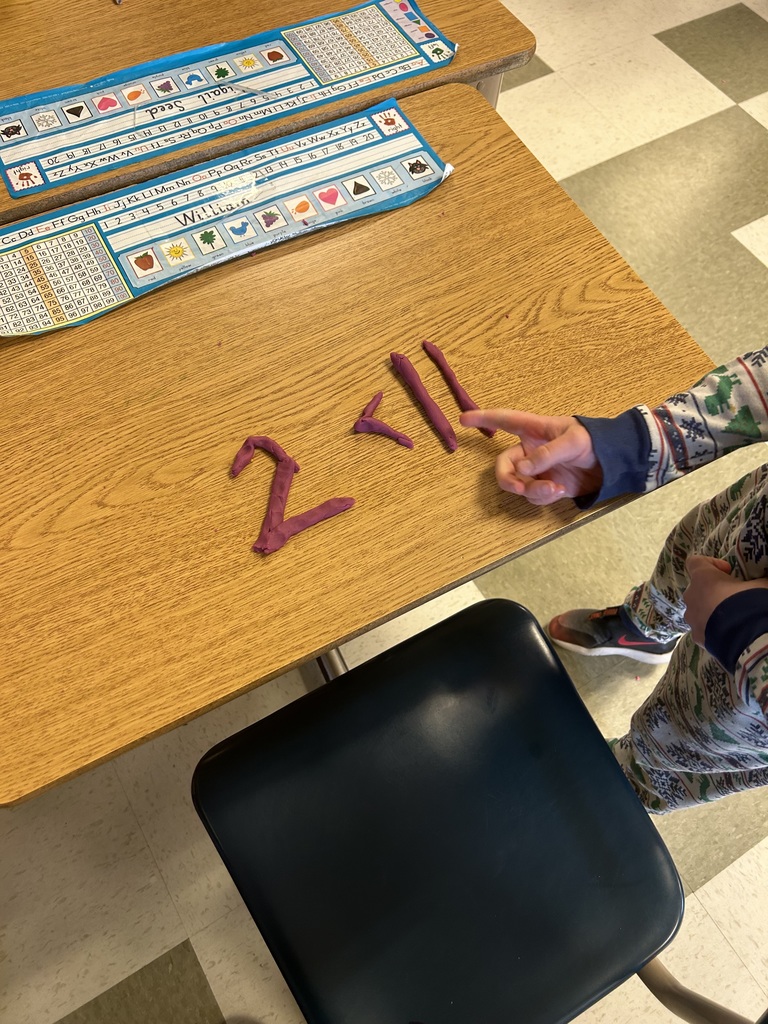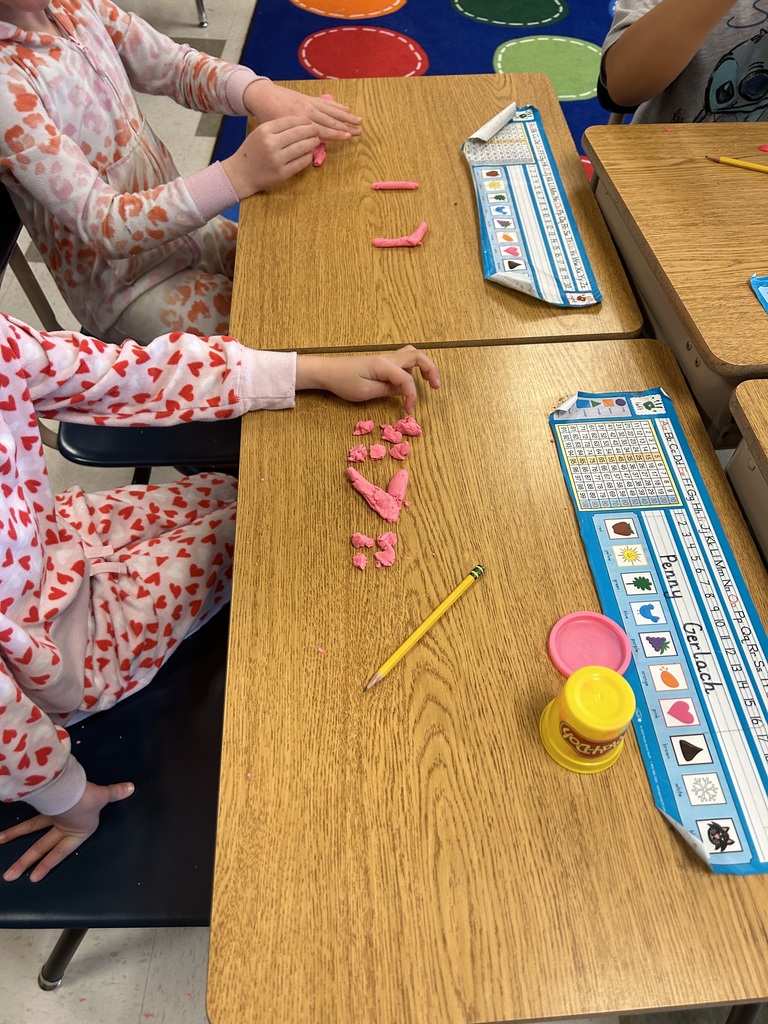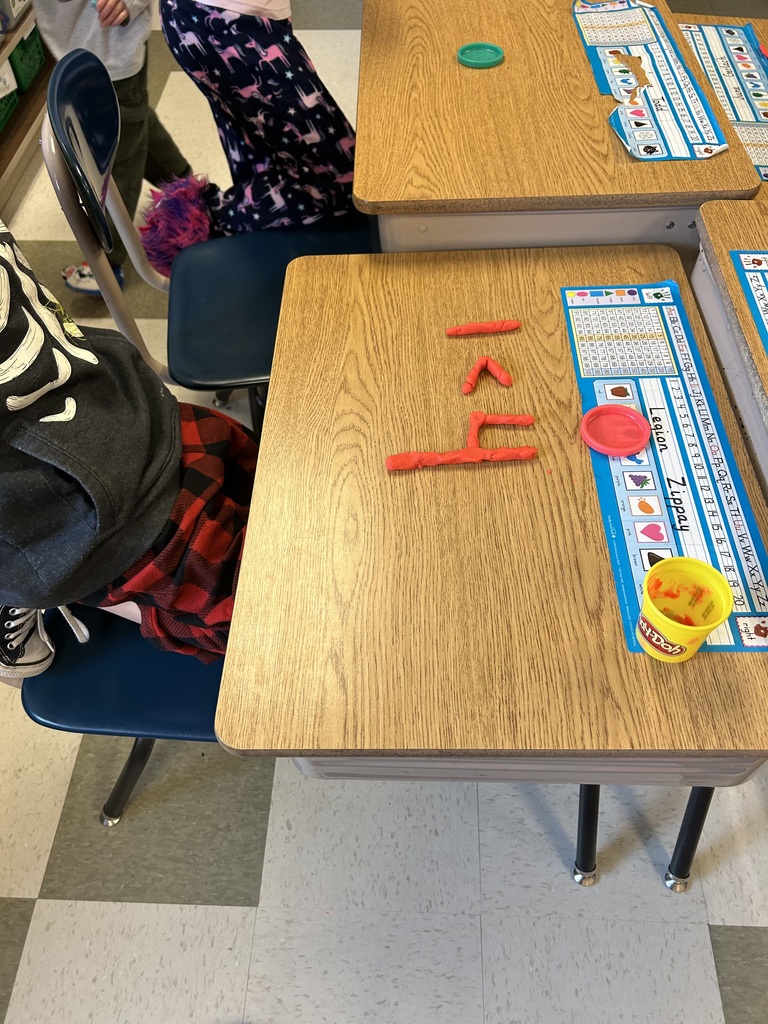 The Missoula Children's Theatre put on an assembly today for grades K-8. They have been working with students who signed up after school all week in preparation for two performances of The Little Mermaid on Saturday at 1 and 3:30 p.m. in the Elementary Gym. Thank you to the Booster Club for sponsoring this event and to all the individuals and businesses who provided food for the practices and lodging for the two Theatre residents.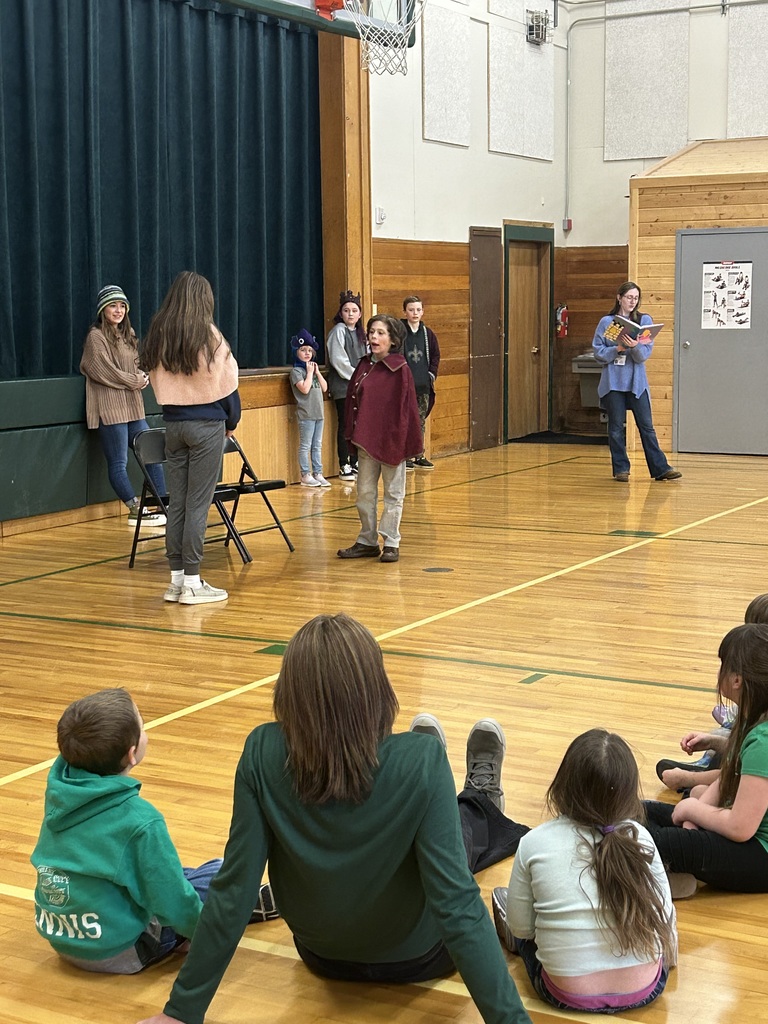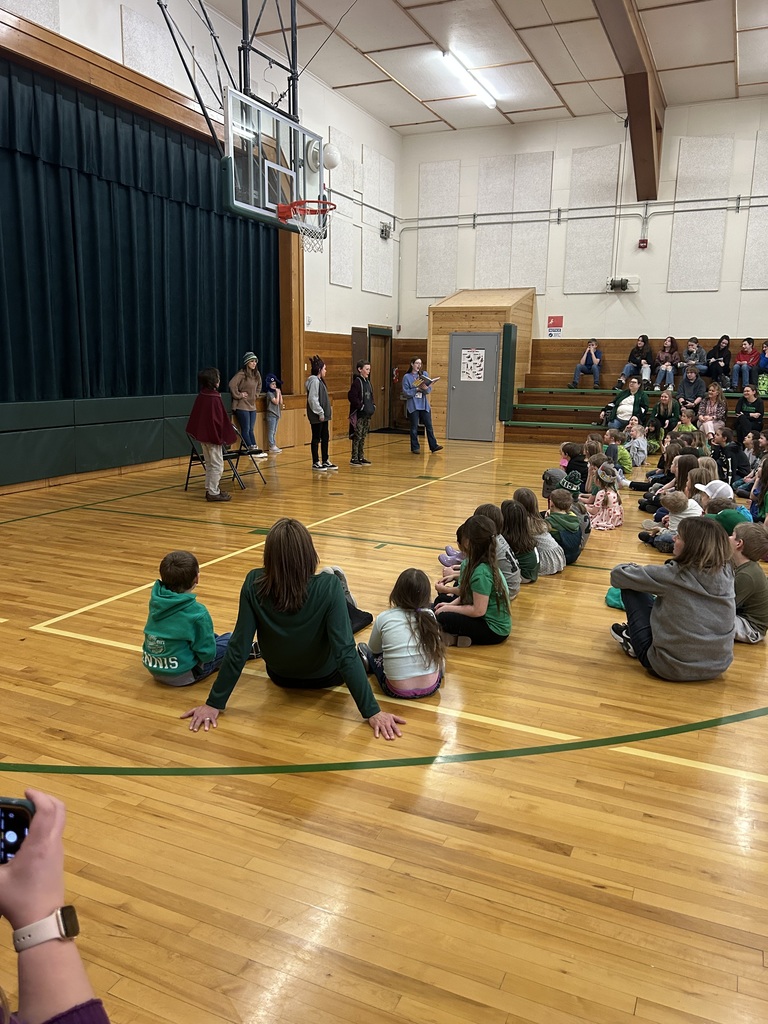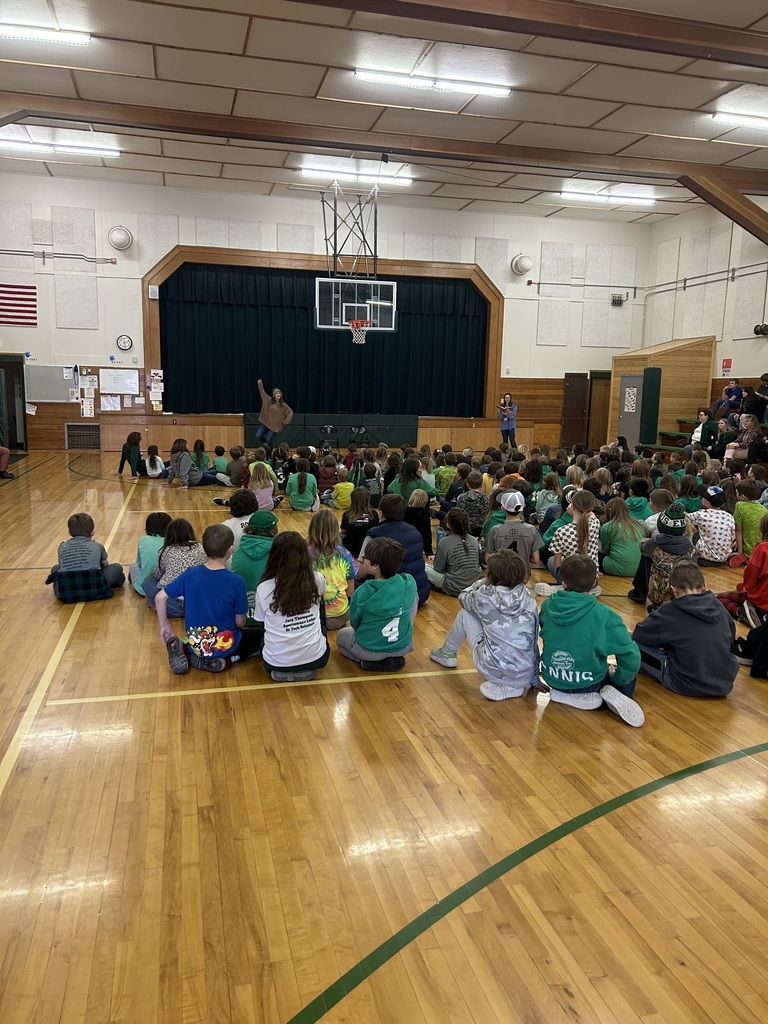 This week is Read Across America Week for our school. RAA is a week to celebrate reading and encourage students to read. This year's theme is: "Camping With a Good Book." Each Elementary Classroom door is decorated in a way to celebrate reading and the theme for the year. Here are some pics of some of the classroom doors!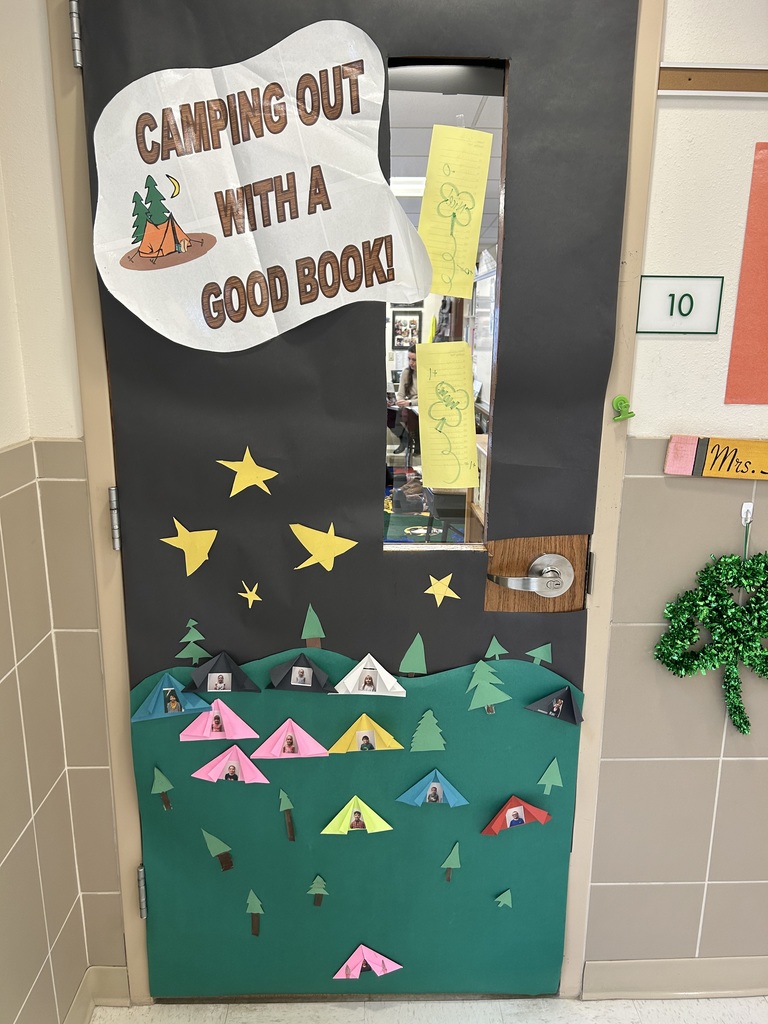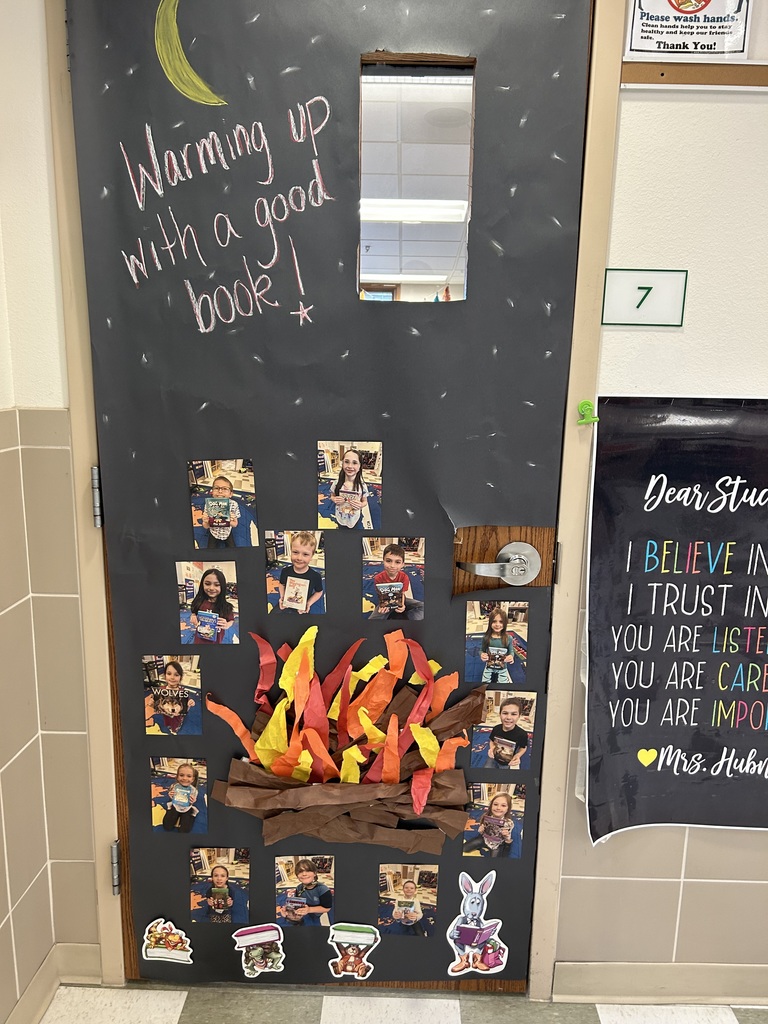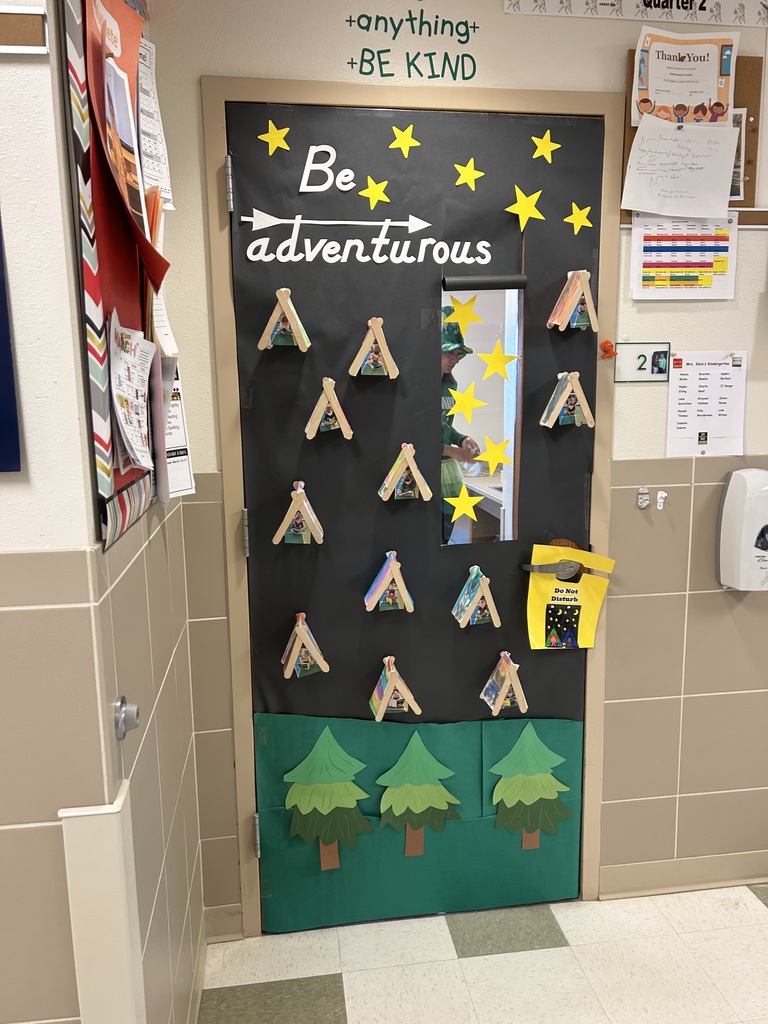 Coaching positions available!! Ennis Public Schools is immediately seeking applications for a head and/or assistant high school golf coach as well as an assistant high school track coach for the 2023 spring sports season. This position is open until filled. Please contact Activities Director Jordan Overstreet for more information @ 406-682-4258

Congratulations to the Lady Mustangs and Coaches on a 3rd place finish at the District 12C Tournament! The Lady Mustangs advance on to the Divisional Tournament this week at the Maroon Activities Center in Butte and will play Seeley Swan at 2pm on Thursday! Please check out the NEWS section for the bracket!

Just a reminder to students and parents that there is NO School Friday, February 17th and Monday, February 20th. School will resume on Tuesday, February 21st.

Attention: Ennis Youth Baseball & Softball league player registration deadline is February 17. Sign your 5-15 year old ball player(s) up at the following link:
https://www.jotform.com/230186259995066

The 4th-8th Grade Madison County Spelling Bee was today in Virginia City. We had 9 students compete and 3 alternates attend the bee. Our students represented Ennis very well. Ultimately, Mustang 7th Grader Celee Klasna won the competition and 7th Grader James Henrich took 3rd. Celee will represent Madison County at the Montana State Spelling Bee on March 11th at 1 p.m. on the MSU campus in Bozeman. Congratulations to Celee, and great job to all of our participants!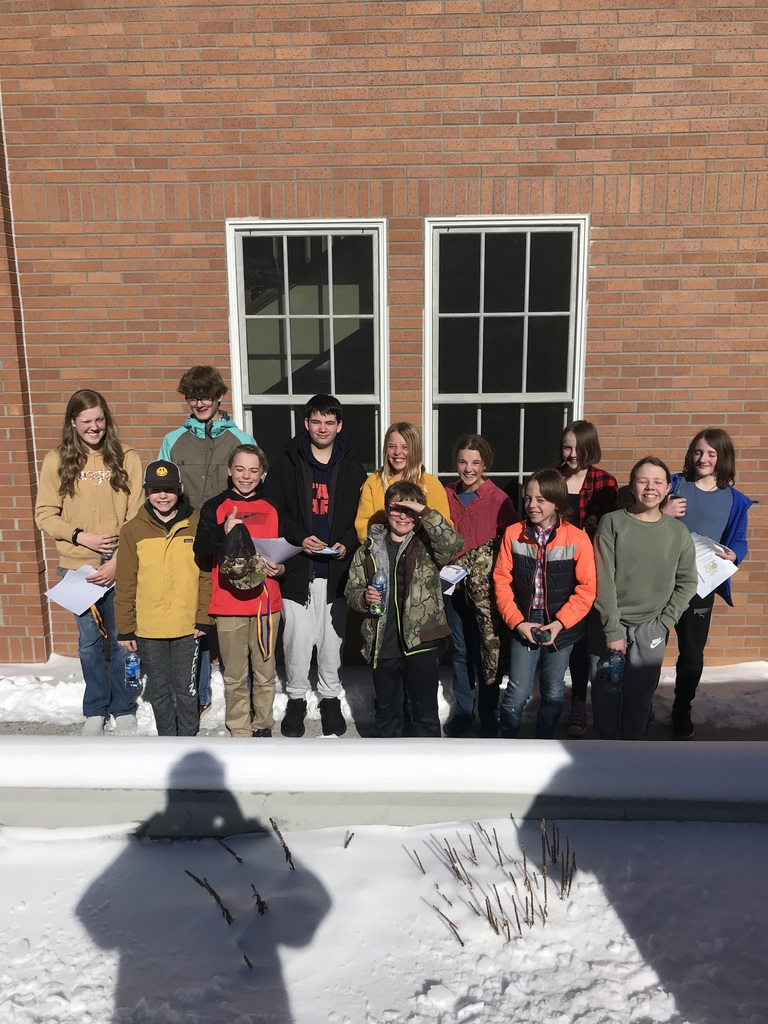 Ms. Beckman's Physical Education classes wrapped up their Table Tennis Tournament last week. Click on the pictures to see who the champions were!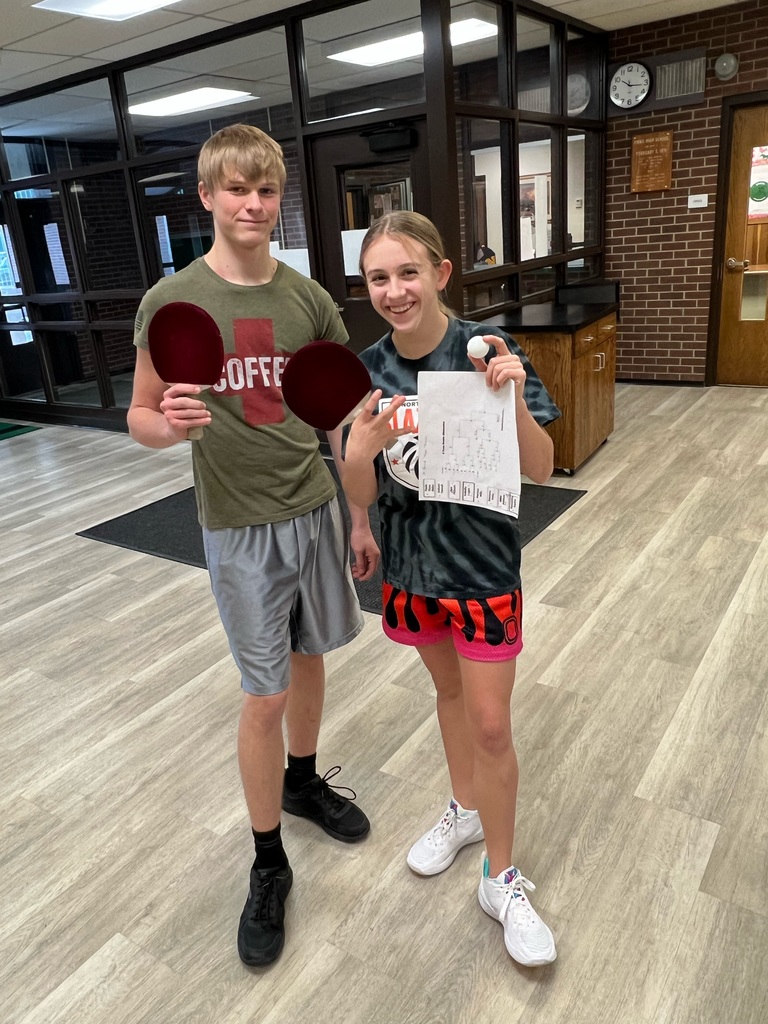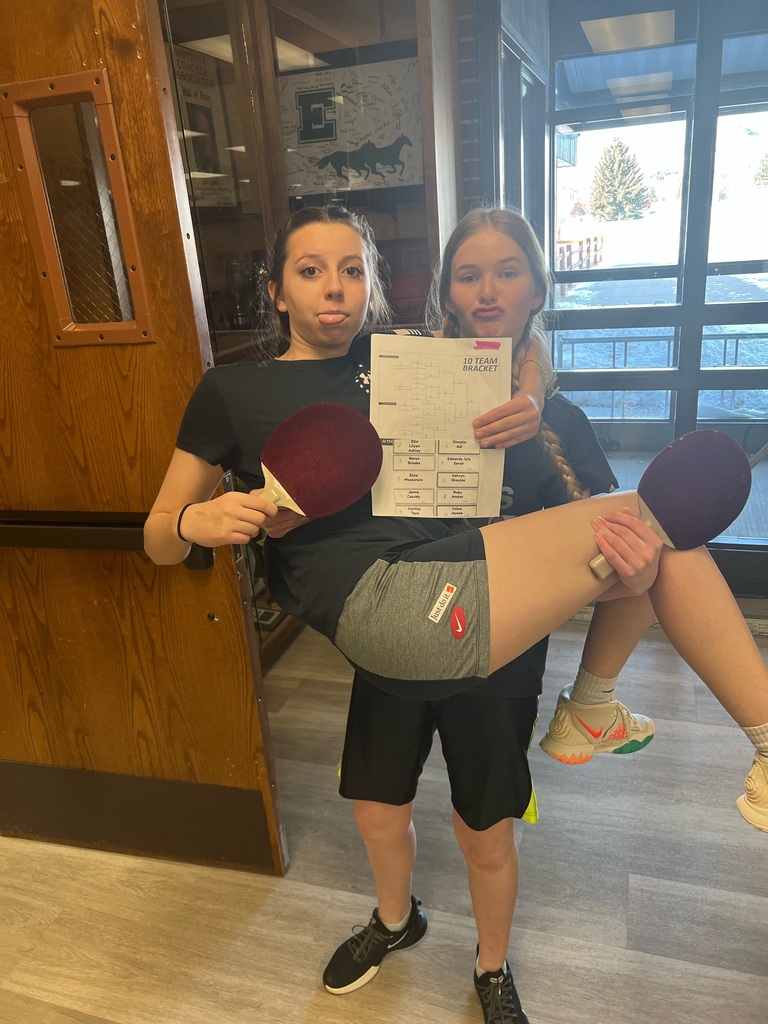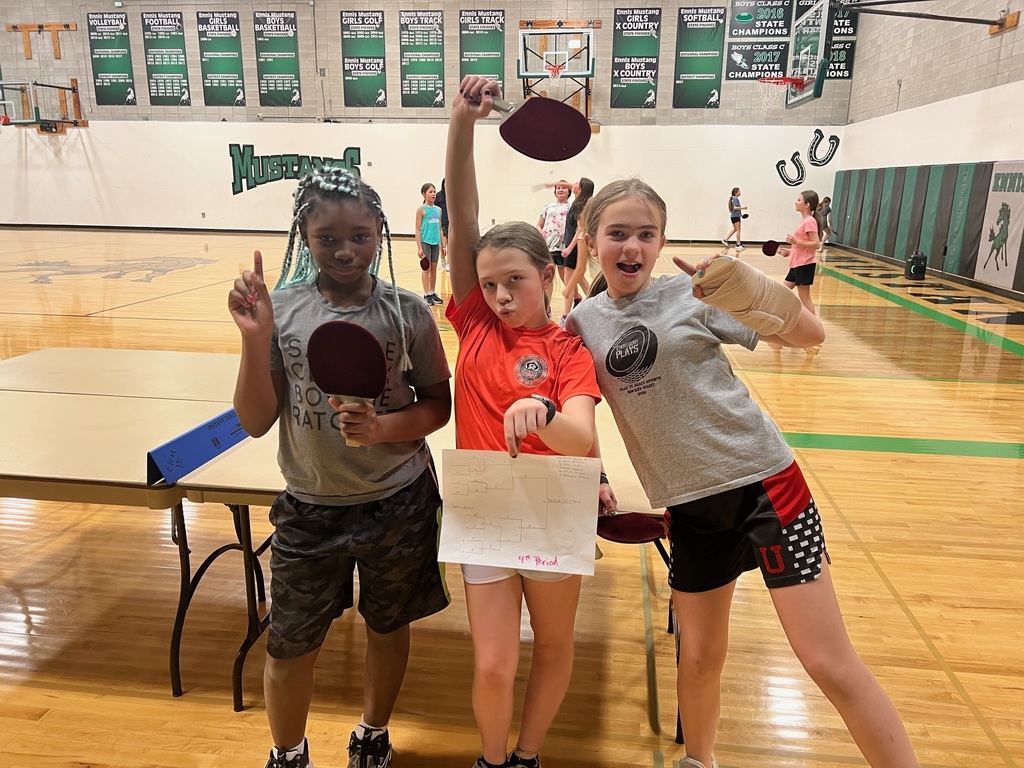 Students and staff celebrated the 100th day of school today by dressing up like they were 100 years old. I'd say they look pretty good for being 100! Happy 100th day everyone!